Annual Gala to celebrate bestselling author and GHHS member Dr. Michele Harper; Bellevue Literary Review Editor-in-Chief and acclaimed physician-author Dr. Danielle Ofri; nurse leader and international humanitarian Deb O'Hara-Rusckowski; and visionary healthcare leader of Quest Diagnostics Steve Rusckowski
Purchase a ticket or sponsorship here.
Please review our Covid-19 guidelines for attendance
Read the full announcement on 11 extraordinary GHHS leaders and recipients of the Humanism in Medicine Medals
The Arnold P. Gold Foundation this spring will recognize four healthcare leaders who embody the ideal of placing human interests, values and dignity at the core of healthcare with its 2022 National Humanism in Medicine Medal. This year's medal honorees are: bestselling author and GHHS member Dr. Michele Harper, Bellevue Literary Review Editor-in-Chief and acclaimed physician-author Dr. Danielle Ofri; nurse leader and international anti-human trafficking activist Deb O'Hara-Rusckowski; and Steve Rusckowski, global business and healthcare leader and Chairman, CEO and President of Quest Diagnostics.
The four honorees will be presented with their awards at the Gold Foundation's Annual Gala, Thursday, June 9, 2022, which returns to the beautiful Ziegfeld Ballroom in New York City. For the first time, a virtual option will be available, too, connecting the Gold Foundation community across the globe. The Annual Gala draws leaders of medical and nursing education, of hospitals and health systems, community health centers, and of global healthcare companies, as well as humanistic doctors, nurses, and students, Gold Humanism Honor Society members, Gold grantees and awardees, and passionate supporters of humanism in healthcare. For the second year, the Annual Gala will be hosted by Gold Trustee Dr. Kimberly Manning, a singular and beloved voice of humanism and Professor at Emory University School of Medicine.
The 2022 Gala will herald two milestones for the Gold Foundation. The Gold Humanism Honor Society (GHHS), now with nearly 45,000 members, turns 20 years old this year. GHHS membership recognizes medical students and other healthcare leaders who are role models of humanistic care, which the Gold Foundation defines as compassionate, collaborative, and scientifically excellent care. The gala will be recognizing a constellation of GHHS members who have been key to these two remarkable decades, including one of the four gala medalists.
In addition, the Gold Corporate Council (GCC), which is composed of six leading global healthcare companies that help advance humanism within their own companies and in the broader ecosystem, turns 5 years old this year. The GCC, which is made up of BD, Henry Schein, Inc., IBM Watson Health, Quest Diagnostics, CVS Health, and Siemens Healthineers, aspires to elevate the importance of compassion and empathy in healthcare, igniting conversation and action throughout the healthcare industry.
"We are incredibly proud to celebrate the Gold Humanism Honor Society and the Gold Corporate Council for their transformative work and essential leadership in humanism in healthcare," said Dr. Richard I. Levin, Gold Foundation President and Chief Executive Officer. "The members of GHHS, now nearly 45,000 strong, show us every day how patient care can be human, how compassion connects us, how collaboration and connection are critical for healing. The GCC illuminates the impact that humanism can yield in the corporate sector."
Several special features are planned at the gala to celebrate both anniversaries, with more details coming soon.
The four gala honorees are:
Michele Harper, MD, is a phenomenal physician-leader who has detailed, in exquisite writing, the troubling and destructive gap many patients face in accessing equitable, humanistic care and the challenges healthcare professionals of color face in the current culture of medicine. She is the New York Times bestselling author of The Beauty in Breaking, a poignant memoir of her path of self-healing and the lessons she learned as a daughter, a woman, and a physician.
Dr. Harper is an emergency room physician with more than a decade of experience at various institutions, including as chief resident at Lincoln Hospital in the South Bronx and in the emergency department at the Veterans Affairs Medical Center in Philadelphia. She is a graduate of Harvard University.
Dr. Harper was inducted into the Gold Humanism Honor Society in 2005 at the Renaissance School of Medicine at Stony Brook University. She has also worked with GHHS members at the Ohio State University College of Medicine in their project about the health of women who are incarcerated, which included a book club featuring The Beauty in Breaking. Dr. Harper spoke on a panel about this project at the 2021 Gold Foundation's Humanism & Healing Conference.
Dr. Harper embodies the essence of a GHHS member, both raising her voice on the national level and working on the local, chapter level to advance humanism in specific, individual projects. She will be accepting her medal on behalf of both her accomplishments and all GHHS members in the honor society's 20th anniversary year.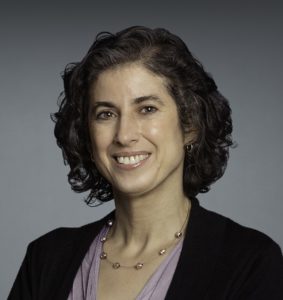 Danielle Ofri, MD, PhD, is one of the foremost voices in the medical world today, speaking passionately about the doctor-patient relationship and sustaining humanity in healthcare. She is an internist at Bellevue Hospital, America's oldest public hospital, and a clinical professor of medicine at NYU Grossman School of Medicine. She is the Founder and Editor-in-Chief of the Bellevue Literary Review, the first literary journal ever to arise from a medical setting.
A longtime ally of the Gold Foundation's mission of humanism in healthcare, Dr. Ofri chronicled the deep and complex humanity of the COVID pandemic in a remarkable essay for The New Yorker. Ofri is also a frequent contributor to the  New York Times, the Lancet, the New England Journal of Medicine, and Slate Magazine. Her writings have been selected twice for Best American Essays and also for Best American Science Writing. She is the recipient of the McGovern Award from the American Medical Writers Association for "preeminent contributions to medical communication."
She has given TED talks on Deconstructing Perfection and Fear: A Necessary Emotion and is featured in the documentaries Why Doctors Write and White Coat Rebels. Dr. Ofri is the author of six books about life in medicine, including the critically acclaimed What Doctors Feel: How Emotions Affect the Practice of Medicine. Her most recent book, When We Do Harm: A Doctor Confronts Medical Error, was published in April 2020, in the midst of the first COVID surge. She is a graduate of McGill University and NYU School of Medicine.
Under Dr. Ofri's leadership, Bellevue Literary Review and the Gold Foundation have co-hosted several literary events, including "Writers Confront Racism," which also included Dr. Harper, and the upcoming "COVID: Primary Sources," on March 23.
Deb O'Hara-Rusckowski, RN, MBA, MTS, is an extraordinary international advocate for humanism in healthcare, with deep experience working on urgent health-related issues in America and around the globe. A critical care nurse by training, she spent more than 30 years in healthcare and the private sector. She devotes her time now to nonprofit organizations and philanthropy, combining her passion for healthcare, business, and faith.
Mrs. O'Hara-Rusckowski has been an invaluable member of the Gold Board of Trustees since 2017. She is a Delegate and Special Advisor to the Ambassador on Human Trafficking for the Order of Malta's Mission at the United Nations, focused on human trafficking and the global refugee crisis. She recently founded Global Strategic Operatives for the Eradication of Human Trafficking, which conducts educational and training sessions in healthcare systems on how to identify victims and take appropriate actions. Ms. O'Hara Rusckowski is additionally leading a coalition to establish safe houses for survivors of trafficking.
Mrs. O'Hara-Rusckowski previously founded Nurses With Global Impact, Inc. as a resource for nurses and to recognize nurses doing extraordinary work across the globe. The nonprofit hosts International Nurses Day at the United Nations annually where a select group of nurses are chosen from around the world to be honored.
She has always had a passion for healthcare missions in countries around the world, including Haiti (20+ years), Philippines, Dominican Republic and Bosnia Herzegovina, where she was a member of a Crisis Intervention Team with National Organization for Victim's Assistance of Washington, D.C, to work with women and girls who survived rape camps. She was also a member of the Federal Disaster Medical Team that was deployed to New York City on 9/11/01. She is a graduate of Northeastern University and Boston College.
Steve Rusckowski is a visionary business leader who has elevated humanism in healthcare as the Chairman, Chief Executive Officer and President of Quest Diagnostics and as the lead founder of the Gold Corporate Council.
During his decade of leadership at Quest, he led the transformation of the company into the leader in diagnostic information services with record financial performance in 2021. Mr. Rusckowski has also driven Quest to build a more inclusive, team-oriented culture, which today features more than ten employee business networks, and is overseen by a board of directors composed of 50% women and two people of color. In 2020, he spearheaded the launch of Quest for Health Equity, a $100 million commitment to reduce health disparities among the underserved in the U.S., particularly in communities of color.
Prior to joining Quest Diagnostics, Steve was CEO of Philips Healthcare. He is a graduate of Massachusetts Institute of Technology, where he serves on the CEO Advisory Board.
Mr. Rusckowski's vision sparked the creation in 2017 of the Gold Corporate Council, a group of leading healthcare companies that have committed to adopting humanistic policies and procedures and to partnering with the Gold Foundation to showcase innovation and impact change across the broader healthcare community. Quest Diagnostics is a GCC founding member.
Quest Diagnostics has adapted the Gold Foundation's Tell Me More® program into its Everyday Excellence™ Program to encourage a stronger connection between its staff and its patient customers, and is further incorporating the program through its launch of Everyday Equity™ as well. This milestone marked the first time a healthcare corporation utilized the Tell Me More® program, which was originally created by GHHS members to allow patients and healthcare team members to connect beyond roles and diagnoses.
Purchase a ticket or sponsorship here.
Visit the Gold Foundation 2022 Gala webpage for updates or sign up for our email newsletters.
Read the full announcement on 11 extraordinary GHHS leaders and recipients of the Humanism in Medicine Medals