The Arnold P. Gold Foundation, in partnership with the Association of American Medical Colleges (AAMC), sponsors the Jordan J. Cohen Humanism in Medicine Thought Leader Session at the AAMC Annual Meeting. These lectures feature prominent speakers on topics related to humanism and medicine.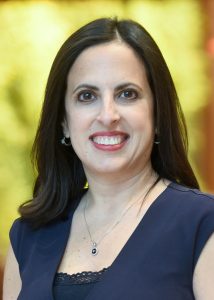 The 2019 Humanism in Medicine Lecture at the AAMC was given at the 2019 AAMC Annual Meeting to Dr. Rana Awdish: "The Wound is the Gift."
Dr. Awdish is the author of In Shock, a critically-acclaimed, bestselling memoir based on her own illness. A critical care physician and faculty member of Wayne State University School of Medicine in Detroit, Michigan, she completed her medical degree at Wayne State in 2002 where she was inducted into the Alpha Omega Alpha national medical honor society, her residency at Mount Sinai Beth Israel in New York, and her fellowship training at Henry Ford Hospital where she serves as the current Director of the Pulmonary Hypertension Program. She also serves as Medical Director of Care Experience for the entire Health System.