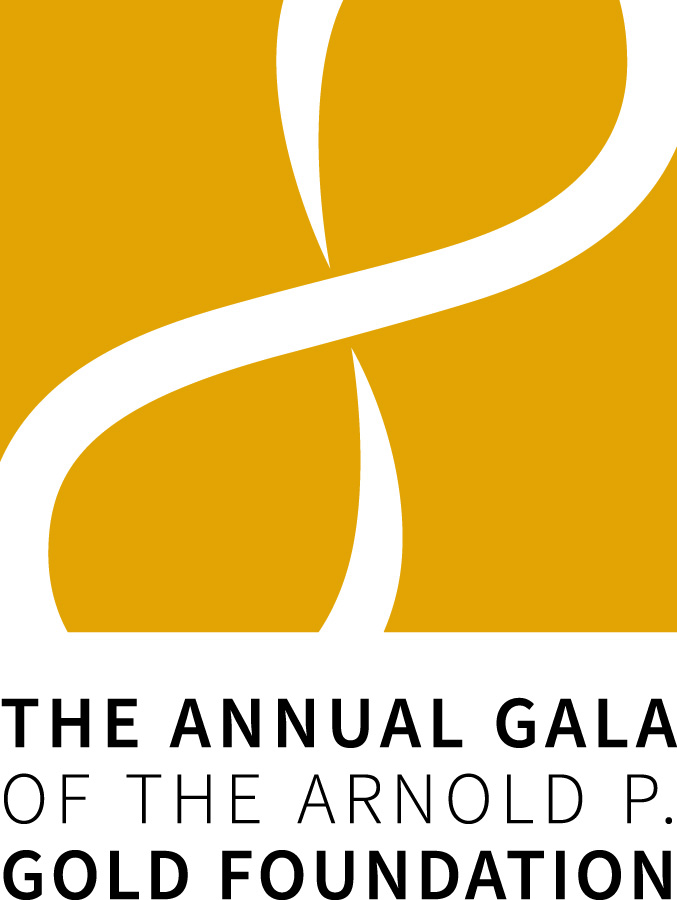 Learn more about the 2022 Annual Gala and view the Gala Journal (PDF). The Gold Foundation thanks all of its sponsors for making the Annual Gala possible.  
The Arnold P. Gold Foundation is delighted to announce that 11 extraordinary Gold Humanism Honor Society members will be awarded the National Humanism in Medicine Medal for helping to power the success of GHHS over its remarkable 20 years.
These GHHS members are representative of the thousands of committed leaders who have helped to make the honor society what it is today. In 2022, on its 20th anniversary, GHHS now encompasses 181 chapters around the world, nearly 45,000 members, and millions of moments of humanistic connection in the care of patients.
The 11 GHHS leaders will be recognized at the Gold Foundation's Annual Gala, on Thursday, June 9, 2022, at the Ziegfeld Ballroom in New York City. One honoree, Dr. Michele Harper, will be accepting her medal on stage on behalf of all GHHS members. Dr. Harper, who was inducted into GHHS in medical school, has made great contributions to humanistic care as an emergency physician, at the local GHHS chapter level, including recently with Ohio State's chapter, and on a national scale with her timely, moving memoir, The Beauty in Breaking. Learn more about her and the other three gala honorees who will be on stage in this announcement.
"These 11 leaders of humanism have committed themselves tirelessly to rooting healthcare around the patient. This is the bedrock of the Gold Foundation's mission of humanism in healthcare," said Dr. Richard I. Levin, President and CEO of the Gold Foundation. "Their inspiring efforts have succeeded both in raising the importance of compassion and connection in medical education and in establishing a reinforcing community of empathic doctors who serve as role models and as support for one another."
Along with Dr. Michele Harper, these 10 GHHS leaders represent contributions throughout the honor society's two decades and will be awarded the 2022 National Humanism in Medicine Medal:
Jonathan Amiel, MD, is a Professor of Psychiatry and Senior Associate Dean for Innovation in Health Professions Education at Columbia University's Vagelos College of Physicians & Surgeons. He is also an Attending Psychiatrist at NewYork Presbyterian and the New York State Psychiatric Institute. Dr. Amiel is past chair of the Association of American Medical Colleges' (AAMC) Organization of Resident Representatives and Northeast Group on Educational Affairs and leads its Core Entrustable Professional Activities pilot. His dedicated partnership with GHHS since the early days of its conception has continued with his leadership role within the Advisory Council, as Chair of the Membership Committee, and his oversight of the GHHS sub-committees, which has resulted in incredible outcomes. Dr. Amiel's firm commitment and dedication to the values originally instilled by Drs. Arnold and Sandra Gold has kept those values of humanism ever-present.
Kathleen Kashima, PhD, is Senior Associate Dean of Students, Assistant Clinical Professor in Psychiatry and Assistant Professor in Medical Education at the University of Illinois, College of Medicine (UI COM). She is also a Clinical Psychologist at UIC's Mood and Anxiety Disorders Clinic.  Dr. Kashima is currently a fellow in the University of Illinois President's Executive Leadership Program and the chair for the Association of American Medical Colleges Group on Student Affairs. Her visionary leadership as Advisory Council Chair spearheaded the successful navigating of efforts to place the GHHS checkbox on the ERAS® application, which has cemented a lasting emphasis of humanism on the residency selection process.
Candice Passerella, MD, graduated from the United States Naval Academy in May 2004. From 2006 to 2013, she qualified as a Naval Flight Officer and was designated as an EA-6B Prowler Mission Commander, flying more than 1,000 hours, 100 carrier landings, and over 60 combat missions in Iraq and Afghanistan. Dr. Passerella became an awardee of the Navy Health Professions Scholarship Program to attend Howard University College of Medicine (HUCM) in 2016. As a fourth-year medical student, she was nominated into the Gold Humanism Honor Society (GHHS) and was subsequently elected as HUCM Chapter Chair before graduating in 2020. Dr. Passerella has served on the GHHS Advisory Council and shared her insights in the Gold Connection podcast and the 2021 Humanism & Healing Conference. She currently trains at Walter Reed National Military Medical as a PGY-1 in psychiatry, in addition to serving as the Wellness Representative for her intern class and as Walter Reed Psychiatry's Diversity, Equity, and Inclusion Chair.
Wayne T. McCormack, PhD, is a Distinguished Teaching Scholar, Professor and education researcher in the Department of Pathology, Immunology & Laboratory Medicine at the University of Florida College of Medicine. Dr. McCormack served as a member of the GHHS Executive Committee and Advisory Council for eight years (2003-2011), and as a member of the Planning Committee for the first three GHHS biennial conferences in 2004, 2006, and 2008. His commitment to the use of peer evaluation in medical education led to the development of the peer-nomination survey that is used by most Gold Humanism Honor Society chapters as the core of their selection process.
Elizabeth Mensah, MD, is a graduate of Emory University School of Medicine and an incoming Psychiatry resident at Yale University. Dr. Mensah's commitment to GHHS is evident through her role as GHHS Chapter President at Emory University and her leadership in organizing meaningful and educational events. Most notably, in "A Calculated Risk: Engaging with Black Patients About the Covid-19 Vaccine," she equipped attendees to engage in compassionate conversations around this topic. Since then, she has engaged with the staff of the Gold Foundation, sharing her perspective as a medical student and contributing as a member of the GHHS Alumni Committee. She has also brought her deep insights to help amplify incredible learning experiences at the 2021 Humanism & Healing Conference, as well in her role as igniter of the "Fixing the Broken Heart: Radically Reimagining How We Heal" session at the 2022 Healing the Heart of Healthcare Conference.
Maria (Mia) Savoia, MD, FACP, recently retired as the Dean of Medical Education for the School of Medicine at University of California, San Diego. She maintains both her clinical practice and research in the Infectious Disease Division of the Department of Medicine, where she is a Professor, teaching both microbiology and clinical medicine to medical students. She currently is also working to start a Physician Assistant Program for the School. On a national level, she has chaired the Group on Student Affairs of the Association of American Medical Colleges, the Governing Council of the Academic Physician Section of the American Medical Association and the Board of Directors of the National Resident Matching Program.  Before GHHS began, she was one of a small group called together to brainstorm its initiation.  Her work during the formative years of the GHHS, including her membership on the inaugural Advisory Council, ensured the success and sustainability of the honor society. As Chair of the GHHS Advisory Council from 2010 to 2013, she led GHHS through a critical period of growth and expansion. She continues to serve on the GHHS Nominating Committee.
Scott Shaffer, MD, is Assistant Professor of Psychiatry and Behavioral Sciences and Pediatrics at the Albert Einstein College of Medicine. He is director of the Child and Adolescent Psychiatry Consult/Liaison Service at the Children's Hospital at Montefiore, and is the Deputy Training Director of the child and adolescent psychiatry fellowship at the Albert Einstein College of Medicine. As a medical student, he was identified by his peers as an exemplar of humanistic care. Since then, he has dedicated his time, brilliance, and creativity to the continued evolution of the GHHS. During his role as Chair of the GHHS Advisory Council, he partnered with the Gold Foundation staff to conceptualize content for the first Gold Humanism Virtual Conference, hosted by GHHS. In partnership with other GHHS Advisory Council members, he helped redesign the structure of the GHHS sub-committees into active working groups with specific charges intended to facilitate growth. His ongoing presence on the GHHS Advisory Council continues to promote this high level of forward momentum.
Olapeju Simoyan, MD, MPH, BDS, FASAM, FAAFP, is the Founding Executive Director of Research at the Fran and Doug Tieman Center for Research at Caron Treatment Centers. She is a Professor in the Department of Psychiatry at Drexel University College of Medicine and holds an adjunct faculty position at Penn State University College of Medicine. Dr. Simoyan's commitment to bridging the gap between the arts and sciences led her to become a strong advocate for the inclusion of the arts and humanities in medical education. She incorporates her artistic passions of music and writing into her professional work and serves as editor of the New Voices column of Pulse- Voices from the Heart of Medicine. With seed funding from the Gold Foundation, she led the establishment of a literary journal, Black Diamonds, serving as its Editor in Chief for several years. She has represented the GHHS proudly ever since her days as a student and resident. A 2006 recipient of the Leonard Tow Humanism in Medicine award, she was also a Gold Student Summer Fellow and a Gold Humanism Scholar at the Harvard Macy Institute, in addition to being a GHHS faculty advisor. A former Fulbright scholar and recipient of the Herbert Nickens Faculty Fellowship, Dr. Simoyan continues to support the ideals of the GHHS through her work as a clinician, researcher, and medical educator.
Linda Stone, MD, is Special Assistant to the Dean for Humanism and Professionalism at The Ohio State University College of Medicine. She served as a family physician for patients in Columbus, Ohio for over 25 years. She is past President of the Ohio Academy of Family Physicians (OAFP) and past chair of the OAFP Foundation. Dr. Stone has also served on the board for the American Academy of Family Physicians Foundation. In 2004, she was awarded the Leonard Tow Humanism in Medicine Award and named Professor of the Year at The Ohio State University College of Medicine. Her leadership is driven by an unwavering dedication to patient-centered care and student-centered education. She creates leaders – empowering her students and residents to hold tightly onto what first led them into a career in healthcare. As Chapter Advisor of The Ohio State University's GHHS Medical School and GHHS Residency Chapter, she has changed the culture. Her leadership of the GHHS Chapter Affairs Sub-Committee has allowed the Gold Foundation staff to truly assess the needs of GHHS chapters and provide enduring resources for them all to succeed.
Norma Wagoner, PhD, is a faculty member in the Department of Cell and Developmental Biology at University of Colorado, teaching anatomy to medical, dental and masters of anatomy students. Dr. Wagoner completed 30 years as a senior administrator at four medical schools. She has received numerous national honors and awards for her leadership, including a "history maker's award" in 2001 for having started the Association of American Medical College's Women in Medicine national office in 1976. Dr. Wagoner was instrumental in establishing the Gold Humanism Honor Society where she served as the National Director from 2002 to 2009. In 2008, she was selected as a national inductee to the Gold Humanism Honor Society. During her leadership role in GHHS, she met with medical education leaders to help clarify the complexity of creating a new honor society. She helped institutions to identify potential barriers, ways to scale the honor society, and essential expectations for all chapters. She is an integral part of the success of the now 181 GHHS chapters and continues to be an inspiration to the current leadership of the Advisory Council and GHHS staff leadership at the Gold Foundation.
Learn more about the 2022 Annual Gala. The Gold Foundation thanks all of its sponsors for making the Annual Gala possible.