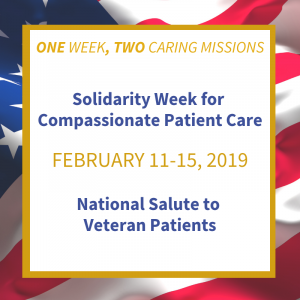 A beautiful week of caring has doubled! It turns out that the Gold Humanism Honor Society's annual Solidarity Week for Compassionate Patient Care is also the National Salute to Veteran Patients at the Department of Veterans Affairs. Both annual celebrations are scheduled during Valentine's Day: This year, the special week is Feb. 11-15.
The coincidence is especially fitting because this year's Solidarity Week focuses on veterans care. The Veterans Gold Health Initiative aims to encourage community and academic clinicians in all specialties to more effectively identify, diagnose and treat America's veterans. Fewer than 50 percent of eligible veterans receive their care through Veterans Affairs (VA) facilities.
In medical schools and institutions across the world, Gold Humanism Honor Society chapters take the lead on activities for Solidarity Week for Compassionate Patient Care. Even if your hospital, clinic, or other healthcare institution does not have a tie to a GHHS chapter, we would love to have your participation.
Special thanks to VA Voluntary Service Specialist and veteran Karna L. Bennett for making this connection! To connect with a nearby VA Medical Center, she advises you contact the main VA Health Care System closest to you and ask to speak with a VA Voluntary Service Chief.
Locate your nearest VA Medical Center and learn more about the National Salute to Veteran Patients and Solidarity Week for Compassionate Patient Care.
Please reach out to your local VA Medical Center to schedule or share events that could enhance both organizations' goals and encourage a lasting partnership.
GHHS chapters are also invited to apply for our National Project Initiative funding. All organizations participating in Solidarity Week can share their plans with us and request Solidarity Week stickers (deadline for requesting stickers is Feb. 4)
This is a great opportunity to have a positive impact on your community. Good luck, and we look forward to hearing from you!