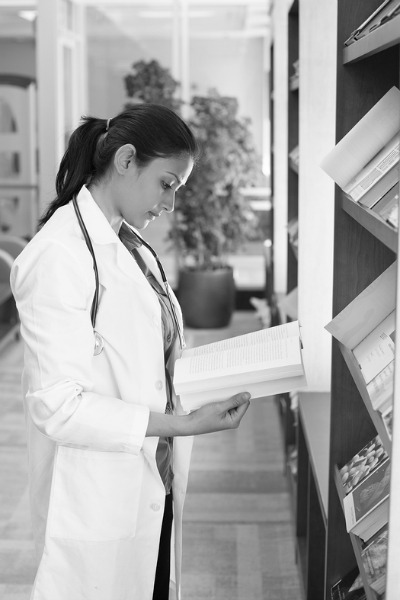 The Jeffrey Silver Humanism in Healthcare Research Roundup features summaries of recently published studies on humanism in healthcare. To receive email notification of new studies once per month, enter your information here and select "Jeffrey Silver Research Roundup" from the checkboxes at the bottom. See previous posts in this series.
Care partners reading patients' visit notes via patient portals: Characteristics and perceptions. Jackson SL, Shucard H, Liao JM, Bell SK, Fossa A, Payne TH, Reisch LM, Radick AC, DesRoches CM, Fitzgerald P, Leveille S, Walker J, Elmore JG. Patient Educ Couns. 2021 Aug 26:S0738-3991(21)00571-1. doi: 10.1016/j.pec.2021.08.025. Epub ahead of print. PMID: 34481675   Free full text Dr. Sigall K. Bell, a Gold Professor, has been a Gold Foundation grantee.
Care partners, such as spouses and parents, are integral members of the healthcare team, helping patients to navigate and coordinate complex health systems, communicate with practitioners, and assist with shared decision-making. Access to patient information, including doctors' notes, via electronic portals can help care partners in fulfilling these roles. Dr. Sara Jackson and colleagues conducted an online survey of portal users to understand their perceptions and to solicit suggestions for improving the experience. Among the 874 care partners surveyed, 44% were spouses, 43% were children or other family members, and 14% were neighbors or others. Care partners reported that access to electronic notes helped promote positive health behaviors, and perceptions of their utility were even more positive than among the 28,782 patients surveyed. Additionally, open-ended comments from the survey demonstrated benefits including (1) help with remembering the plan of care, (2) coordinating care with other doctors, (3) decreasing stress of care giving, (4) improving efficacy of visits, and (5) supporting patients from a geographic distance. Yet there is room for improvement. Care partners suggested a separate log-on for care partners, avoiding judgmental language in notes, and adding the capability to prompt needed medical care for patients. The authors conclude that incorporating feedback from patients and care partners may improve healthcare delivery through these electronic portals.
The Basic Science of Patient-Physician Communication: A Critical Scoping Review. Forsey J, Ng S, Rowland P, Freeman R, Li C, Woods NN. Acad Med. 2021 Aug 3. doi: 10.1097/ACM.0000000000004323. Epub ahead of print. PMID: 34348382 Dr. Stella Ng has been a Gold Foundation grantee.
High-quality communication between patients and physicians is at the heart of humanistic healthcare. But what are the fundamental principles rooted in basic science underpinning high-quality verbal communication?  To answer this, Jacquelin Forsey and colleagues conducted a scoping review addressing knowledge gaps with regards to the role of verbal communication in patient-physician interactions and provided a foundation to teach adaptive, responsive, and patient-centered communication. They initially identified 15,851 studies, of which 271 studies were ultimately included for review. They grouped these studies into six concepts: (1) clear and explicit language, (2) patient participation and activation, (3) negotiating epistemic knowledge, (4) affiliative language and emotional bonds, (5) role and identity, and (6) managing transactional and relational goals. The authors emphasize that this foundational conceptual knowledge of communications should be integrated into the clinical curriculum, just as basic science is already. They conclude that this synthesis of the scope of literature can help to guide future interventions in teaching verbal communication to medical trainees and ultimately "support the development of adaptive communication experts capable of providing high-quality care in any environment."
Trust in Physicians, Anxiety and Depression, and Decision-Making Preferences among Parents of Children with Serious Illness. Madrigal VN, Hill DL, Shults J, Feudtner C. J Palliat Med. 2021 Sep 13. doi: 10.1089/jpm.2021.0063. Epub ahead of print. PMID: 34516933 Dr. Chris Feudtner has been a Gold Foundation grantee.
Parents of children with serious illness often engage in shared decision-making with members of the healthcare team. Preferences for shared decision-making vary and range from "autonomous" (making the decision themselves) to "collaborative" (decision-making between both physicians and themselves) to "delegate" (preferring that the physician make decisions). Trust in physicians is one determinant of such preferences, but the degree to which trust impacts such preferences and the role of parental anxiety and depression is not well-known. Dr. Vanessa Madrigal and colleagues examined this in a cross-sectional sample of 200 parents of 158 children with life-threatening illnesses. The parents were identified by attending physicians as those who would have to make a major medical decision in the next 12-24 months. The investigators determined that lower levels of trust and higher levels of anxiety are more strongly associated with autonomous decision-making. These results provide a richer understanding of determinants of shared decision-making. Providing support to parents and engendering trust may help to foster decision-making that is more collaborative in nature. Altogether, the authors conclude that clinicians may need to "adopt strategies to respect decision-making preferences of these parents without increasing their distrust and provide additional mental health support to parents who are anxious."
Efficacy and Safety of Cannabidiol Plus Standard Care vs Standard Care Alone for the Treatment of Emotional Exhaustion and Burnout Among Frontline Health Care Workers During the COVID-19 Pandemic: A Randomized Clinical Trial. Crippa JAS, Zuardi AW, Guimarães FS, Campos AC, de Lima Osório F, Loureiro SR, Dos Santos RG, Souza JDS, Ushirohira JM, Pacheco JC, Ferreira RR, Mancini Costa KC, Scomparin DS, Scarante FF, Pires-Dos-Santos I, Mechoulam R, Kapczinski F, Fonseca BAL, Esposito DLA, Pereira-Lima K, Sen S, Andraus MH, Hallak JEC; Burnout and Distress Prevention With Cannabidiol in Front-line Healthcare Workers Dealing With COVID-19 (BONSAI) Trial Investigators. JAMA Netw Open. 2021 Aug 2;4(8):e2120603. doi: 10.1001/jamanetworkopen.2021.20603. PMID: 34387679; PMCID: PMC8363917   Free full text Dr. Srijan Sen has been a Gold Foundation grantee.
The COVID-19 pandemic has adversely impacted frontline healthcare workers in many ways, including increased emotional distress, depression, anxiety, posttraumatic stress disorder, and insomnia. One potential means to help manage these issues is through cannabinoid (CBD) therapy, which has anxiolytic and antidepressant properties. To investigate the safety and efficacy of CBD therapy in reducing emotional exhaustion and burnout symptoms, Dr. José Alexandandre S. Crippa and colleagues conducted a prospective open-label single-site randomized clinical trial. They recruited 120 nurses, physicians, and physical therapists working with COVID-19 patients at the Ribeirão Preto Medical School University Hospital in São Paulo, Brazil. Compared to the 59 participants in the control arm, the 61 participants in the treatment arm who took 300mg CBD daily had lower emotional exhaustion scores on the Maslach Burnout inventory after the 4 weeks. Out of 54 points on the subscale for emotional exhaustion, the mean difference was 4.14 and 4.01 after 14 and 28 days, respectively. However, 5 participants in the treatment arm had serious adverse effects that required cessation of therapy. All went on to full recovery after cessation. This randomized trial suggests that there may be some utility to CBD in addressing emotional exhaustion and burnout among frontline workers. Yet the benefits must be weighed against risks of CBD therapy. The authors conclude by recommending double-blind placebo-controlled clinical trials to assess if these results can be more broadly applied.
Contributors to Gender Differences in Burnout and Professional Fulfillment: A Survey of Physician Faculty. Rotenstein L, Harry E, Wickner P, Gupte A, Neville BA, Lipsitz S, Cullen E, Rozenblum R, Sequist TD, Dudley J. Jt Comm J Qual Patient Saf. 2021 Aug 9:S1553-7250(21)00193-8. doi: 10.1016/j.jcjq.2021.08.002. Epub ahead of print. PMID: 34507905
Burnout, an occupational condition characterized by emotional exhaustion, interpersonal disengagement, and perceived inefficacy, continues to be a critical issue impacting the physician workforce. However, physician burnout is not experienced equally among different groups of physicians. To identify contributors to burnout among women, Dr. Lisa Rotenstein and colleagues conducted a cross-sectional survey study of 2,388 physician faculty at Brigham and Women's Hospital in 2017. The Stanford Physician Wellness Survey was used to assess burnout, professional fulfillment, culture of wellness, personal resilience, and efficiency of practice. Among the 1,066 who responded, 495 (46.4%) were women. Female physicians had higher rates of burnout (42.4%), and lower rates of professional fulfillment (35.1%), compared with their male counterparts (24.4%, 50.4%, respectively). They also had comparatively lower ratings for self-compassion and culture of wellness (perceived appreciation, work environment diversity and inclusion, and control over their schedules). The authors' multivariate models suggest these factors may help to explain the relationship between burnout and gender. Therefore, the authors suggest that interventions addressing "gender-based differences in faculty rank, culture of wellness factors, and organizational and cultural determinants of self-compassion may be starting points for closing the gender gap."
Dreams Realized: A Long-Term Program Evaluation of Three Summer Diversity Pipeline Programs. Stephenson-Hunter C, Strelnick AH, Rodriguez N, Stumpf LA, Spano H, Gonzalez CM. Health Equity. 2021 Aug 4;5(1):512-520. doi: 10.1089/heq.2020.0126. PMID: 34476324; PMCID: PMC8409231   Free full text Dr. Cristina Gonzalez has been a Gold Foundation grantee.
Despite underrepresented minorities (URMs) constituting 29% of the total US population, the percentage of entering medical students in 2018-2019 who were from URM backgrounds was only 13%. To address this disparity, pipeline programs have been developed to increase the number of well-prepared URM students to enter the health professions. But do they meet their intended objectives?  Dr. Cara Stephenson-Hunter and colleagues examined three pipeline programs from Albert Einstein College of Medicine in the Bronx, New York, to determine the participants' long-term educational and career outcomes and explore perspectives of the impact of these programs on their academic and career trajectories. They devised an 87-item electronic survey, from which they analyzed responses using quantitative and qualitative methods as appropriate. The team surveyed in 2013 students who graduated from the summer programs between 2002 and 2012. Among the 147 respondents who responded fully, 107 (73%) entered or were planning to enter a PhD, MD, or masters-level health professions program. Clinical experience, mentorship, career exposure, and research opportunities were cited as the most valuable aspects of their pipeline program experiences. Qualitative analysis yielded three themes: (1) Dreams realized, (2) Professional identity formation, and (3) Addressing systemic inequities. These results are promising, but not without some limitations. There were 461 summer program graduates, but only 361 with known addresses; of those, 44% responded. Similarly, it was unclear if this sample was representative of URM students as a whole. Nevertheless, these results suggest that there are important direct impacts of these pipeline programs and that further studies assessing long-term follow-up are necessary.
Effectiveness of simulation-based interventions at improving empathy among healthcare students: A systematic review and meta-analysis. Chua JYX, Ang E, Lau STL, Shorey S. Nurse Educ Today. 2021 Sep;104:105000. doi: 10.1016/j.nedt.2021.105000. Epub 2021 Jun 5. PMID: 34146845
Empathy is a complex construct that describes the ability to understand patients' experiences, perspectives and emotions without making judgments, and providing them with appropriate care to make them comfortable.  Empathy is a skill that can be cultivated through practice, and there may be a role for simulation methods, such as working with simulated patients, mannequins, role-play, games, virtual reality, or disease-state simulations. To examine this, Joelle Yan Xin Chua and colleagues conducted a systematic review and meta-analysis of randomized controlled trials and clinical controlled trials. Among the 16 studies across 8 countries that were included for review, there was a small but detectable increase in empathy up to one month after the simulation exercises. The authors also noted that role-play may be more effective than simulated patient and disease-state simulations, and multi-session interventions for up to 7 months and group simulations were found to be more effective. However, the lack of application of standardized empathy scales and absence of long-term follow-up are limitations that prevent further generalization of results. Nevertheless, the authors emphasize in their conclusion that "Role-play components, group-based simulations and technology-based simulations should be introduced to obtain better results and attendance."
Mental illness and suicide among physicians. Harvey SB, Epstein RM, Glozier N, Petrie K, Strudwick J, Gayed A, Dean K, Henderson M. Lancet. 2021 Sep 4;398(10303):920-930. doi: 10.1016/S0140-6736(21)01596-8. PMID: 34481571 Dr. Ronald M. Epstein has been a Gold Foundation grantee and a recipient of the Arnold P. Gold Humanism in Medicine Award given by The Society of Teachers of Medicine. He is also the co-founder of Mindful Practice, which collaborates with the Gold Foundation.
Physician mental health has historically been an overlooked topic, but with greater understanding of the prevalence of mental illness among physicians and recognition of burnout as a threat to physician health, the topic has come to the forefront. Dr. Samuel Harvey and colleagues examined this topic through a narrative review, covering both mental health conditions and suicide. Depression and anxiety are believed to be as high as 28% and 24%, respectively, and rates of post-traumatic stress disorder may be as high as 16%. Additionally, between 5% and 20% of doctors in high-income countries consume alcohol problematically. Suicide is also significantly higher among physicians than in the general population, with a standardized mortality rate of 1.44. In the United States, it is estimated that one doctor dies of suicide per day. Although data is scarce, the problem may be worsening with the COVID-19 pandemic and other institutional changes that undermine physicians' sense of control and autonomy. The authors propose potential solutions at three levels, focusing on the individual, the health system, and professional colleges and external regulators. The authors conclude that, while there remains a shortage of data on the topic, especially in lower- and middle-income countries, "urgent action from a range of stakeholders is needed to radically rethink training and employment conditions" to improve mental health of physicians.
To receive an email update when next month's Research Roundup is published, please sign up here and check the box for Research Roundup.