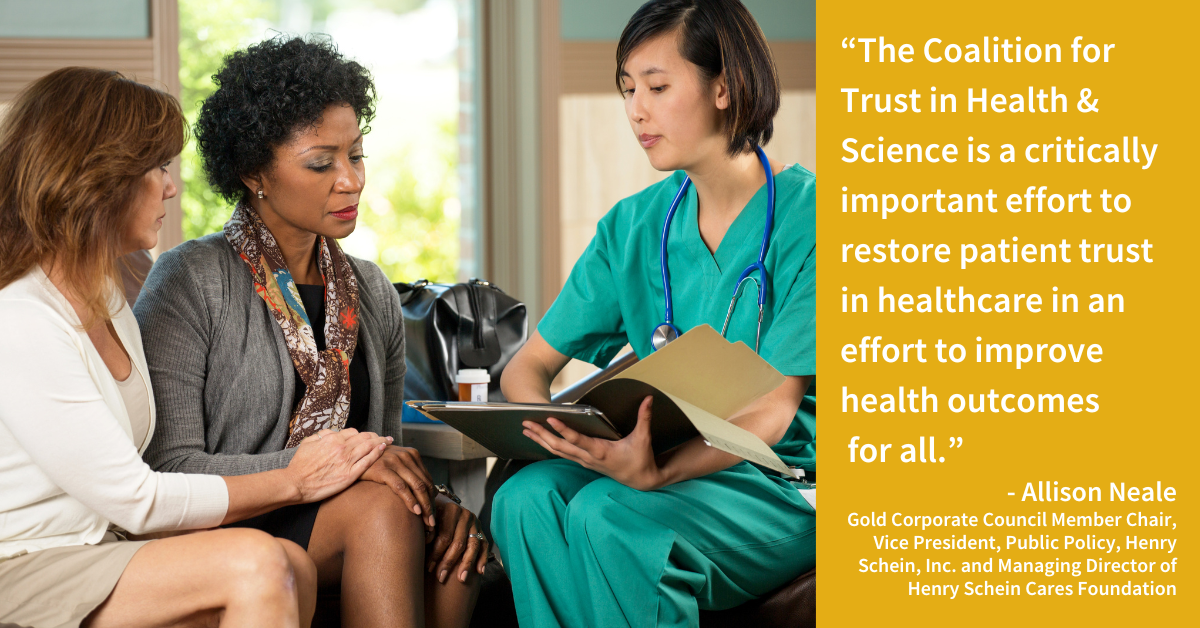 This new long-term initiative is designed to support the science-based health decisions of the public through credible information and enhanced trust in health and science organizations and professionals
The Gold Corporate Council, a group of leading healthcare companies that work to elevate humanism in healthcare, has joined The Arnold P. Gold Foundation and more than 50 other leading organizations in the new Coalition for Trust in Health and Science.
The alliance was formed to unite leaders from across the entire health ecosystem to advance trust and factual science-based decision-making.
"The United States is experiencing a tidal wave of misinformation and disinformation, which has real-world health impacts, such as preventable misery and deaths, and is escalating already dangerously high levels of mistrust and distrust in healthcare, public health and science," said Reed Tuckson, MD, convener of the Coalition for Trust in Health & Science, a former Board member of the Gold Foundation, and a current Board member of Henry Schein, Inc. "Addressing this infodemic is fundamental to the values of the Coalition's members and, together, we can and will make a positive impact on the health of individuals and the nation."
The Gold Corporate Council is made up of six global corporate leaders brought together by the Gold Foundation: BD, CVS Health, Henry Schein, Inc., Medallia, Quest Diagnostics, and Siemens Healthineers. The Gold Corporate Council members have committed to helping advance the Gold Foundation's mission of humanism in healthcare for all, adopting humanistic policies and procedures within their own organizations, and partnering with the Gold Foundation to impact change across the broader community.
"The Coalition for Trust in Health & Science is a critically important effort to restore patient trust in healthcare in an effort to improve health outcomes for all," said Allison Neale, Gold Corporate Council Member Chair, Vice President, Public Policy, Henry Schein, Inc. and Managing Director of Schein Cares Foundation. "The Gold Foundation has defined humanism in healthcare as three elements – compassion, collaboration, and scientific excellence. A fundamental trust in science and healthcare is vital for patients to have the information they need to make the best health-related decisions for themselves."
The Coalition aims to achieve a measurable increase in the public's willingness – and ability – to access evidence-based information necessary to make the best personally appropriate health decisions for themselves, their families and the communities in which they live and work. Enhancing the perception and reality of the trustworthiness of the health and medical system is a key element of this goal.
"Health inequities and disparities in access to quality care remain fundamental challenges to the U.S. healthcare system," said David Pacitti, president of Siemens Medical Solutions USA, Inc. and head of the Americas, Siemens Healthineers. "It is important that we build trust through expanding access to care and continuing to improve the quality of that care through better discussions between people and their trusted medical team."
Coalition Aims to Provide Rapid Responses to Particularly Egregious Disinformation
A key aspect of the Coalition's plan is to mobilize the breadth of its network of members to facilitate rapid-cycle debunking of particularly egregious disinformation and misinformation incidents that continue to emerge with concerning frequency and that have the potential to harm the public.
Additionally, the Coalition has begun the creation of an online interactive Compendium of relevant programs operated or sponsored by Coalition members for the purposes of sharing ideas; stimulating collaboration; facilitating research while also identifying research gaps; enabling research findings to inform ongoing and new initiatives; supporting the spread of effective strategies; and fostering measurement of collective impact.
More Than 50 Member Organizations Representing Diverse Interests Join Coalition
The alliance is currently composed of more than 50 national organizations representing corporate leaders, basic and applied science organizations; health academicians; health services researchers; pharmaceutical manufacturers; physicians, nurses, pharmacists and other professional disciplines; public health professionals; health insurers; health regulators; ethicists; health humanists; foundations; health consumer organizations; and health consulting, policy and communications organizations.
Members share the Coalition's vision that "All people have equitable access to and confidence in the accurate, understandable and relevant information necessary to make personally appropriate health decisions."
In addition, members have pledged to 1) Support efforts to advance people's scientific and health literacy, earn public trust and improve health outcomes and health equity, and 2) Work individually and collectively to correct misinformation and counter disinformation that threatens people's health and well-being.
"Trust is essential in healthcare. As a member of the Gold Corporate Council, Medallia builds trust by infusing compassion and humanism into every aspect of our approach, putting the patient, family, and clinician experience first," said Lee Becker, SVP and Executive Advisor, Healthcare and Public Sector, Medallia. "Only by viewing care and services from a relational perspective can we ensure they are truly effective, easy, and emotionally resonant – and ultimately, earn the trust of those we serve."
Learn more about the Gold Corporate Council and the Coalition for Trust in Health and Science.
Current members include:
AAAS
ABIM Foundation
Academy Health
Accreditation Council For Continuing Medical Education
AHIP
Albert and Mary Lasker Foundation
American Academy of Nursing
American Association of Colleges of Osteopathic Medicine
American Association of Colleges of Pharmacy
American Board of Internal Medicine
American College of Physicians
American College of Preventive Medicine
American Hospital Association
American Institute for Medical and Biological Engineering (AIMBE)
American Medical Association
American Nurses Association
American Organization for Nursing Leadership
American Physical Society
American Psychological Association
American Public Health Association
American Society of Health System Pharmacists
American Society of Tropical Medicine and Hygiene
America's Physician Groups
Arnold P. Gold Foundation
Arnold P. Gold Foundation Gold Corporate Council
Association of American Indian Physicians
Association of American Medical Colleges (AAMC)
BCG
Berman Institute of Bio-ethics
BIO
Black Coalition Against COVID
Coalition for Physician Accountability
Commonwealth Fund
Council of Medical Specialty Societies
Federation of American Hospitals
Foundation for the National Institutes of Health
Gold Corporate Council
Henry Schein, Inc.
Institute for Healthcare Improvement
Josiah Macy Jr. Foundation
KFF
KPMG LLP
LifePoint Health
National Association of County and City Health Officials
National Association For Home Care & Hospice
National Association of Hispanic Nurses
National Black Nurses Association
National Board of Osteopathic Medical Examiners
National Coalition of Ethnic Minority Nurse Associations
National Committee for Quality Assurance
National Council of Asian Pacific Islander Physicians
National Health Council
National Hispanic Medical Association
National Medical Association
National Pharmaceutical Association
NewCourtland Center for Transitions and Health, University of Pennsylvania School of Nursing
PhRMA
Real Chemistry
Research!America
The Hastings Center
The John A. Hartford Foundation Inc.
The Joint Commission
About the Gold Corporate Council
The Gold Corporate Council is a group of leading healthcare companies brought together by The Arnold P. Gold Foundation, a national nonprofit organization that champions humanism in healthcare. The members of the Gold Corporate Council have committed to adopting humanistic policies and procedures within their own organizations and to partnering with the Gold Foundation to impact change across the broader community. Learn more about the Gold Corporate Council and its work by contacting Senior Director of Strategy and Business Development Pia Pyne Miller at pmiller@gold-foundation.org.