NYU-Gold Webinar: Equity and Diversity in Clinical Research
For more information about the entire webinar series and other upcoming dates, click here.
This Gold Human InSight Webinar was the final event in the "Advancing Healthcare Equity with Medical Humanities" series, a Gold-NYU collaboration that offers CME credit and furthers dialogue on the timely issue of health equity across the healthcare ecosystem. The webinar series aimed to maximize accessibility and promote dialogue between medicine and the humanities.
"Equity and Diversity in Clinical Research" aired with a live Q&A with Arthur L. Caplan, PhD, David M. Oshinsky, PhD, Aisha Langford, MPH, PhD, and Julie Sowash on December 14, 5:30-6:30 p.m. ET. You must have attended the live session to receive CME credit. The presentation recording (without the live Q&A) will be made available for viewing later on the Gold website.
1 CME credit is just $10; the Gold Foundation is supporting this series and has committed to making CME credit affordable. The webinar is free for non-CME attendees. Donations to support the Gold Foundation's work are optional and welcome. More accreditation information is below.
Download full CME information (PDF)
---
SUMMARY
Medical research tends to focus on white male adult able-bodied populations to the detriment of women, disabled people, older adults and people of color, not to mention medical science. Roundtable participants will discuss contemporary research practices and ways to improve the diversity of research samples. Topics addressed will include representation, recruitment, historical inequalities, data collection, site selection, and the benefits of increased equity and diversity for the future of clinical research.

SPEAKERS
Arthur L. Caplan, PhD
Drs. William F. and Virginia Connolly Mitty Professor of Bioethics, Department of Population Health
NYU Grossman School of Medicine
BIOGRAPHY
Currently the Drs. William F. and Virginia Connolly Mitty Professor and founding head of the Division of Medical Ethics at NYU Grossman School of Medicine in New York City.
Prior to coming to NYU, Dr. Caplan was the Sidney D. Caplan Professor of Bioethics at the University of Pennsylvania Perelman School of Medicine in Philadelphia, where he created the Center for Bioethics and the Department of Medical Ethics. He has also taught at the University of Minnesota, where he founded the Center for Biomedical Ethics; the University of Pittsburgh; and Columbia University. He received his PhD from Columbia University.
Dr. Caplan is the author or editor of 35 books and more than 800 papers in peer reviewed journals. His most recent books are Vaccination Ethics and Policy (MIT Press, 2017, with Jason Schwartz) and Getting to Good: Research Integrity in Biomedicine (Springer, 2018, with Barbara Redman).
He has served on a number of national and international committees including as chair of the National Cancer Institute Biobanking Ethics Working Group; chair of the Advisory Committee to the United Nations on Human Cloning; and chair of the Advisory Committee to the Department of Health and Human Services on Blood Safety and Availability. He has also served on the Presidential Advisory Committee on Gulf War Illnesses; the Special Advisory Committee to the International Olympic Committee on Genetics and Gene Therapy; the Special Advisory Panel to the National Institutes of Mental Health on Human Experimentation on Vulnerable Subjects; the Wellcome Trust Advisory Panel on Research in Humanitarian Crises; and as the co-director of the Joint Council of Europe/United Nations Study on Trafficking in Organs and Body Parts.
Dr. Caplan has served since 2015 as a chair of the Compassionate Use Advisory Committees (CompAC), independent groups of internationally recognized medical experts, bioethicists, and patient representatives that advise Johnson & Johnson's Janssen Pharmaceuticals on requests for compassionate use of its investigational medicines.
Dr. Caplan is a regular commentator on bioethics and health care issues for WebMD/Medscape, WGBH radio in Boston, WOR radio in New York City, and CNN. He appears frequently as a guest and commentator on various other national and international media outlets.
Dr. Caplan is the recipient of many awards and honors including the McGovern Medal of the American Medical Writers Association and the Franklin Award from the City of Philadelphia. He was a USA Today 2001 "Person of the Year" and was described as one of the ten most influential people in science by Discover magazine in 2008. He has also been honored as one of the fifty most influential people in American health care by Modern Health Care magazine, one of the ten most influential people in America in biotechnology by the National Journal, one of the ten most influential people in the ethics of biotechnology by the editors of Nature Biotechnology, and one of the 100 most influential people in biotechnology by Scientific American magazine.
During the COVID-19 pandemic, he is co-directing an advisory group on sports and recreation for the U.S. Conference of Mayors, created a working group on coronavirus vaccine challenge studies, developed an ethical framework for distributing drugs and vaccines for J&J, and helped develop rationing policies for NYU Langone Health and many other health systems. He is a member of the WHO advisory committee on COVID-19, ethics, and experimental drugs/vaccines, and he helped set policy for WIRB/WCG for research studies. He was an adviser to Moderna, Inc., and he serves on the NCAA COVID-19 Medical Advisory Group.
Dr. Caplan received the Patricia Price Browne Prize in Biomedical Ethics for 2011. In 2014, he was selected to receive the Public Service Award from the National Science Foundation/National Science Board, which honors individuals and groups that have made substantial contributions to increasing public understanding of science and engineering in the United States. In 2016, the National Organization for Rare Disorders (NORD) honored him with its Rare Impact Award; that year he also received the Food and Drug Law Institute's Distinguished Service Leadership Award and the American Society for Bioethics and Humanities' Lifetime Achievement Award. In 2019, he was honored by the Reagan-Udall Foundation for the FDA with its Innovation Award.
Dr. Caplan holds seven honorary degrees from colleges and medical schools.
Dr. Caplan's electronic long-form (ELF) disclosure statement can be found here: https://bit.ly/3ilyprJ
David M. Oshinsky, PhD
Associate Professor, Department of Medicine
NYU Grossman School of Medicine
BIOGRAPHY
David Oshinsky, PhD, is director of the Division of Medical Humanities at NYU Grossman School of Medicine and a professor in the NYU Department of History. His books include Polio: An American Story, which won both the Pulitzer Prize in History and the Hoover Presidential Book Award; Bellevue: Three Centuries of Medicine and Mayhem at America's Most Storied Hospital, which was voted "Best Book About New York City" and was a PBS "Best Book of the Year"; A Conspiracy So Immense: The World of Joe McCarthy, which won the Hardeman Prize for the best book about the U.S. Congress; and Worse Than Slavery, which won the Robert F. Kennedy Prize for distinguished contribution to human rights. Oshinsky's articles and reviews appear in the New York Times, Wall Street Journal, Washington Post, and New York Review of Books, among other publications.
In 2009, PBS' The American Experience aired The Polio Crusade, a documentary based on Oshinsky's Polio: An American Story, and in 2020 released McCarthy: Power Feeds on Fear, a documentary based on his biography of Joseph McCarthy.
Oshinsky has been a frequent juror for the Pulitzer Prizes in history and in biography.  He received the Dean's Medal from the Bloomberg-Johns Hopkins School of Public Health for his distinguished contributions to the field, and Bill Gates wrote that Oshinsky's polio book strongly influenced his decision to make polio eradication the number one medical priority of the Gates Foundation.
Aisha Langford, MPH, PhD
Assistant Professor, Department of Population Health
BIOGRAPHY
As an assistant professor in NYU Grossman School of Medicine's Department of Population Health, I study how health communication can improve individual decision making and reduce population health disparities for conditions or behaviors that lead to preventable mortality and morbidity. I received my BA in English from the University of Virginia, MPH in Behavioral Science from Saint Louis University, and PhD in Health Behavior and Health Education from the University of Michigan.
Historically, I have done work in cancer prevention and clinical trial participation in community-based settings. My research has expanded to include cardiovascular disease broadly, with a particular interest in hypertension-related decision making. In August 2018, I received a 5-year career development award from the NIH/National Heart, Lung, and Blood Institute (NHLBI) to explore patient and clinician preferences for hypertension management. Prior to receiving my career development award, I obtained a 2-year diversity supplement from the NIH/National Center for Advancing Translational Sciences (NCATS) to explore study teams' awareness and use of recruitment support tools.
I co-direct NYU Langone's Clinical and Translational Science Institute's (CTSI) Recruitment and Retention Core (RRC). In this role, I provide consultations to study teams on ways to enhance recruitment and retention across various clinical trials. My efforts with the CTSI RRC build upon my dissertation research, which focused on minority enrollment in clinical trials. A notable finding from my dissertation research was that minorities are willing to participate in clinical trials and to join a university-based registry when eligible and explicitly invited.
I am an active member of the Society for Medical Decision Making (SMDM), Academy of Communication in Healthcare (ACH), and the Society of Behavioral Medicine (SBM). For SMDM, I serve as the deputy editor for the Society's newsletter. I also serve as an associate editor for two journals: Patient Education and Counseling and Clinical Trials.
Julie Sowash
Executive Director

Disability Solutions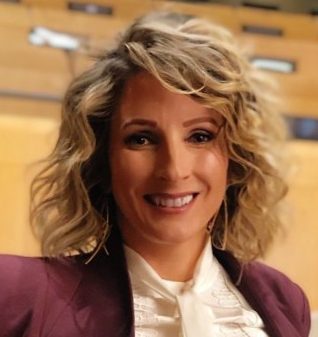 BIOGRAPHY
Julie Sowash is the Executive Director of Disability Solutions, a US based non-profit, working with more than 70 companies around the world to build both best and first generation practice for inclusion of people with disabilities. Julie also is the Strategy Lead for Ability Beyond, Disability Solutions parent organization, supporting their efforts to be inclusive of all underrepresented communities through Ability, Stronger. Last but not least, Julie is the co-host of the Crazy and the King podcast with her good friend and DEIB leader, Torin Ellis. The programs Julie has built have been recognized both locally and globally and have resulted in thousands of people with disabilities finding and growing careers and in the training of nearly 10,000 people leaders to reduce fear and stigma around all types of disabilities. She was also recognized as one of the Top 100 in Talent Acquisition Technology by TA Tech in 2021 and one of the Top 100 DEIB professionals by Untapped in 2022.
CME ACCREDITATION STATEMENT

The NYU Grossman School of Medicine is accredited by the Accreditation Council for Continuing Medical Education to provide continuing medical education for physicians.
CREDIT DESIGNATION STATEMENTThe NYU Grossman School of Medicine designates this live activity for a maximum of 1 AMA PRA Category 1 CreditsTM. Physicians should claim only the credit commensurate with the extent of their participation in the activity.       PROVIDED BYNYU Grossman School of Medicine
For more information about the entire webinar series, click here.