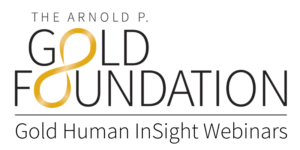 This illuminating Gold Human InSight Webinar series is a Gold-NYU collaboration that spans 10 sessions, all of which offer CME credit and further dialogue on the timely issue of health equity across the healthcare ecosystem.
"Advancing Healthcare Equity with Medical Humanities" uses critical humanities scholarship to educate physicians about racism, sexism, and other forms of prejudice that harm the delivery of medical care. The intended outcome of the project is to reduce the adverse effects of bias on human healthcare. The webinar series aims to maximize accessibility and promote dialogue between medicine and the humanities. CME credits are available for $10 / 1 hour per webinar. Download full CME information (PDF)
UPCOMING WEBINARS
October 20: Why Social Media Matters for Physicians: Public Perceptions of Epilepsy
November 15: As seen through a lens: LGBTQ+ Health and the Media
More information on each webinar and accreditation below.
PAST WEBINARS
April 28: Abolition Medicine: Re-Imagining the Role of Social Justice in Healthcare
May 19: Living to Grow Up: Progress and Persistent Disparities in Infant and Child Mortality
June 14: Race and Racism in U.S. Medical Education
July 14: The Value of Life
August 18: Drowning: Film and the Challenges of Migrant Health Ethics
September 15: Edinburgh, Boston, and Women in the Medical Schools of the 19th Century