The Gold Humanism Honor Society's inaugural Thank a Resident Day took place on February 23, 2018. This national GHHS initiative was intended to highlight the incredible efforts of these hard-working, young doctors who rarely are given a moment of respite.  With acknowledgement of the dedication of these individuals comes the reality that the long hours, and emotional work often leads to burnout.
To mark the first Thank a Resident Day, The Arnold P. Gold Foundation gave away five copies of the book "Family Doc Diary: A Resident Physician's Reflections in Fifty-two Entries," by Phyllis Ying, MD. The illustrated book chronicles the first year of Dr. Ying's residency – the "intern" year. To enter to win a copy of this book, participants were asked to share a tip about how to maintain wellness during residency, a vigorous stage of a young medical career.
The tips for residents were thoughtful and heartfelt:
"Remind yourself why you got into medicine. Read your personal statement for medical school and allow yourself to see how you are working within that goal you had before. Realize that you are a valuable member of the healthcare team and that you are living the dream you previously had for yourself. You matter and you are a success!" — Parth Agrawal, third-year medical student, Medical College of Georgia and GHHS
"Have an outlet outside of medicine. Do not let it become all-consuming in your life. Rather, have it become an important complement to the multiple facets that make up a full life — that which involves friends (yes, outside of residency), family, loved ones, and time to nurture the connections which have gotten you to the place you are now." — Jason Ngo, MD, UCLA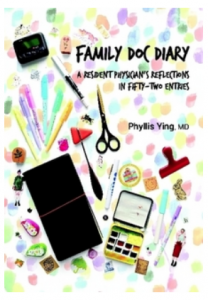 "Don't hide your feelings. We tend to forget that in order to deliver great care, we must feel good ourselves. Don't close yourself in a little world of studying and responsibility, everyone needs a good chat with friends and family as often as possible. Get a house plant. Taking care of it, seeing it grow, and just being amazed at the tranquility it brings is soothing. Volunteer at the local pet shelter to get away from your worries. Who knows? You might even end up with a new pet to keep you company. And always remember to greet people and smile if you feel like it. A warm "hello" to your peers and co-workers can go a long way!" — Montse Cuadra, Universidad Panamericana School of Medicine
"Try to be human. Let others know if you are struggling. They usually are, too, and if you don't let yourself be vulnerable, you might be fooled into thinking everyone else is doing perfectly. Everyone has something that is hard. Try to write down one thing every day you felt was valuable, even if it is as small as a smile from a patient's child or joke exchanges with a colleague. Remember you aren't stuck. If you feel at the end of your rope, ask for help. You can take the time you need. No one truly cares at what pace you go — let yourself do what you need to protect your mental and physical health. That is the most important. Smile!! Laugh!! Read!!! Laugh at yourself!" — Anan Sheridan, MD, Boston Children's Hospital
"Read books you like, write down important things, and always remember that, when it gets hard, because it does, that it's temporary. Tomorrow will be better. And if it's not, then the next day will be! — John Caleb Grenn, MD, University of Mississippi Medical Center
"Care [for] yourself, that is: take care of your mental status by enjoying your interests, reading inspiring lines, writing thoughts and reflections, successes and tribulations, talking to someone else about your experiences; take care of your physical status by training your body indoor or outdoor and breathing deeply; take care of your health relationships, both with your working team and your patients. Dialogue and sharing have to be the basis of an effective therapeutic path. Lastly, find your mentor in order to learn in the best way, without forgetting to follow your path. — Vincenzo Marra, University of Perugia School of Medicine and Surgery
"Remember that self-care — time for hobbies, for exercise, for meditation, for the arts — are just as vital to success as your hard work. You will learn more, provide better care, and be an all-around better physician if you take as much care for yourself as you do your patients. And don't forget your support structure, including us medical librarians!" — Matthew Noe, MSLS, Harvard Medical School, Countway Library of Medicine
"I was once told by my philosophy professor that to have the strength to do anything else we first had to take care of three basic things: to eat, to sleep, and to pray. Now, praying does not need to be only for the religious; it means to know when we cannot do things on our own and ask for help, to remember that we are not alone, and to take a moment out of each day both to look at our own needs, reflect on our actions, and reach out to those around us. Do this and you'll have the strength for the rest." — Nicole M. Yordán-López, University of Puerto Rico, School of Medicine
These responses demonstrate the value and scope of humanism in medicine, as well as the relevance of humanity in maintaining personal wellness. Humanity exists in support systems, communication about the excitement or struggles of medicine, personal belief systems, and importantly, personal self-care.