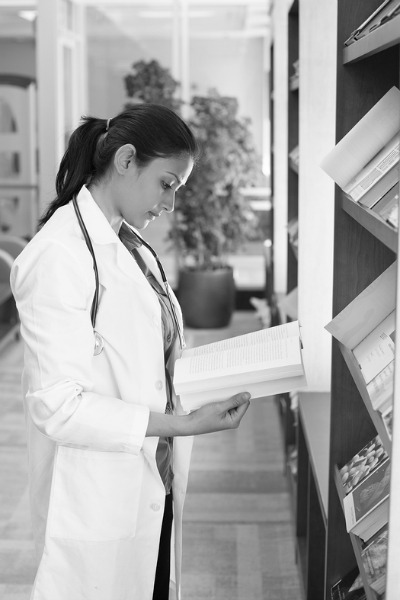 The Jeffrey Silver Humanism in Healthcare Research Roundup features summaries of recently published studies on humanism in healthcare. To receive email notification of new studies once per month, enter your information here and select "Jeffrey Silver Research Roundup" from the checkboxes at the bottom. See previous posts in this series.
Publications from Gold Foundation-Affiliated Authors
A multi-stakeholder consensus-driven research agenda for better understanding and supporting the emotional impact of harmful events on patients and families
Bell SK, Etchegaray JM, Gaufberg E, Lowe E, Ottosen MJ, Sands KE, et al. Jt Comm J Qual Patient Saf. 2018 Jul;44(7):424-435.
Dr. Gaufberg is the Jean and Harvey Picker Director of the Arnold P. Gold Foundation Research Institute; Dr. Bell is a Gold Professor.
Patients and families, clinicians, social scientists, lawyers, and foundation/policy leaders were brought together to discuss patient and family emotional harm stemming from experiencing preventable medical errors.They talked about profound isolation, psychological distress, damaging aspects of medical culture, healthcare aversion, and negative effects on communities. They reached consensus on four research priorities: (1) Establish a conceptual framework and patient-centered taxonomy of harm and healing; (2) Describe epidemiology of emotional harm; (3) Determine how to make emotional harm and long-term impacts visible to healthcare organizations and society at large; and (4) Develop and implement best practices for emotional support of patients and families. The group also created a strategy for overcoming research barriers and actionable "Do Now" approaches to improve the patient and family experience while research is ongoing.
Impact of a brief faculty training to improve patient-centered communication while using electronic health records
Lee WW, Alkureishi ML, Isaacson JH, Mayer M, Frankel RM, London DA, Wroblewski KE, Arora VM.     Patient Educ Couns. 2018 Jul 3. pii: S0738-3991(18)30320-3.
Drs. Lee, Alkureishi, Frankel and Arora are Mapping the Landscape, Journeying Together grantees.
Authors piloted a faculty training about patient-centered electronic health record (EHR) use. Training included a lecture and a Group-Objective Structured Clinical Exam (GOSCE) experience. Faculty reported that training was important, relevant, and should be required for all providers. Faculty improved their patient-centered EHR use skills in clinical practice on post- versus pre-workshop ratings using a validated direct-observation rating tool.
Compassionate care in the age of evidence-based practice: a critical discourse analysis in the context of chronic pain care
Baker LR, Martimianakis MAT, Nasirzadeh Y, Northup E, Gold K, Friesen F, Bhatia A, Ng SL.   Acad Med. 2018 Jul 24.
Dr. Baker is the recipient of an Arnold P. Gold Foundation Research Institute grant; Dr. Martimianakis is a Mapping the Landscape, Journeying Together grantee.
Researchers explored what happens when the discourses of compassionate care and evidence-based practice (EBP) interact in the context of chronic pain management in Canada. Data collection involved compiling an archive of 458 chronic pain texts, including gray literature, patient blog posts, and interviews with clinicians and trainees from local pain clinics. Researchers identified four themes of compassionate care: curing the pain itself, returning to function, alleviating suffering, and validating the patient experience. These themes operated in response, partnership, apology, and resistance to the dominant discourse of EBP. These relationships were mediated by other prevalent discourses in the system: patient safety, patient-centered care, professional liability, interprofessional collaboration, and efficiency.
Collaborating with families: Exploring family member and health care provider perspectives on engaging families within medical education
Ferguson G, Abi-Jaoude A, Johnson A, Saikaly R, Woldemichael B, Maharaj A, Soklaridis S, Nirula L, Hasan M, Wiljer D.   Acad Psychiatry. 2018 Jun;42(3):329-337.
Dr. Soklaridis is a Mapping the Landscape, Journeying Together grantee.
This qualitative study aimed to understand how best to involve families in mental health continuing medical education (CME). Semi-structured interviews were conducted with two samples: mental health care providers (n = 8) and family members of individuals diagnosed with a co-occurring addiction and mental health problems (n = 12). Themes about expertise emerged from the interviews, including the tension between knowledge based on education/credentials and knowledge based on lived experience. Participants also identified barriers of stigma and confidentiality, and recommended strategies to meaningfully include the family perspective within mental health CME.
Comparison of audio vs. audio + video for the rating of shared decision making in oncology using the observer OPTION(5) instrument: An exploratory analysis Free full text
Gionfriddo MR, Branda ME, Fernandez C, Leppin A, Yost KJ, Kimball B, Spencer-Bonilla G, Larrea L, Nowakowski KE, Montori VM, Tilburt J.    BMC Health Serv Res. 2018 Jul 4;18(1):522.
Dr. Montori is a Mapping the Landscape, Journeying Together grantee.
Researchers wanted to learn how non-verbal data may influence observer-administered ratings of shared decision making. They had trained raters analyze recordings of 15 encounters (some were audio+video and some were audio only). They found that these recordings of shared decision making were analyzed differently when the data source included video.
Speaking up about care concerns in the ICU: Patient and family experiences, attitudes and perceived barriers Free full text
Bell SK, Roche SD, Mueller A, Dente E, O'Reilly K, Sarnoff Lee B, Sands K, Talmor D, Brown SM.   BMJ Qual Saf. 2018 Jul 12. pii: bmjqs-2017-007525.
Dr. Bell is a Gold Professor; Dr. Sands and Ms. Sarnoff Lee are Mapping the Landscape, Journeying Together grantees.
Authors surveyed over 1,100 people who had family members in the intensive care unit (ICU) previously or currently. They asked about their comfort level around speaking up about their concerns, as well as barriers to doing so.  Among the current ICU families, 50%-70% expressed hesitancy to voice concerns about possible mistakes, mismatched care goals, confusing/conflicting information and inadequate hand hygiene. Results among prior ICU participants were similar. Half of all respondents reported at least one barrier to voicing concerns, most commonly not wanting to be a "troublemaker," "team is too busy" or "I don't know how."
Other Publications
Physicians' compassion, communication skills, and professionalism with and without physicians' use of an examination room computer: A randomized clinical trial  Free full text
Haider A, Tanco K, Epner M, Azhar A, Williams J, Liu DD, Bruera E.    JAMA Oncol. 2018 Jun 1;4(6):879-881
Researchers prepared two videos: one of a physician talking to patients and taking notes on paper and one of a physician talking to patients and taking notes on a computer. Researchers assigned 120 people to watch these videos in a random order.  After watching each video, the patients filled out a questionnaire. Results showed that patients preferred the physician taking notes on paper and perceived that physician as more compassionate and professional and having better communication skills than the physician on the computer.
Psychological distress and compassion fatigue among hospice nurses: the mediating role of self-esteem and negative affect
Barnett MD, Ruiz IA.    J Palliat Med. 2018 Jun 13.
Researchers surveyed hospice nurses about psychological distress, compassion fatigue, self-esteem and negative/positive affect. They found that psychological distress may reduce self-esteem and create negative feelings, thereby increasing the risk of compassion fatigue. Interventions that target both the cognitive and affective links between psychological distress and compassion fatigue may be most effective.
Compassion fatigue in nursing: A concept analysis
Peters E.   Nurs Forum. 2018 Jul 2.
The author conducted a concept analysis of articles on compassion fatigue from ten health science databases. They found that compassion fatigue occurs across disciplines because of repeated exposure to others' suffering, high stress environments, and the continuous giving of self. The author reviews consequences of compassion fatigue as well as prevention mechanisms.
Verbal and non-verbal communication skills including empathy during history taking of undergraduate medical students  Free full text
Vogel D, Meyer M, Harendza S.   BMC Med Educ. 2018 Jul 3;18(1):157.
Authors conducted a study to analyze how well final-year undergraduate medical students use skills of verbal and non-verbal communication during history-taking and whether these aspects of communication correlate with empathy and gender. They found several gender differences not only between male and female students' approaches, but also between how those students related to male and female patients. In general, non-verbal communication correlated significantly with verbal communication and with empathy while verbal communication showed no significant correlation with empathy.
The impact of patient feedback on the medical performance of qualified doctors: A systematic review  Free full text
Baines R, Regan de Bere S, Stevens S, Read J, Marshall M, Lalani M, Bryce M, Archer J.  BMC Med Educ. 2018 Jul 31;18(1):173.
Authors conducted a review of evidence about the impact of patient feedback on the medical performance of qualified doctors. Twenty articles were included in the final analysis, in which papers were quality appraised, thematically analyzed and synthesized using a narrative approach. They found that patient feedback can have an impact on medical performance but that feedback is more likely to be more influential if it is specific, collected through credible methods and contains narrative information.