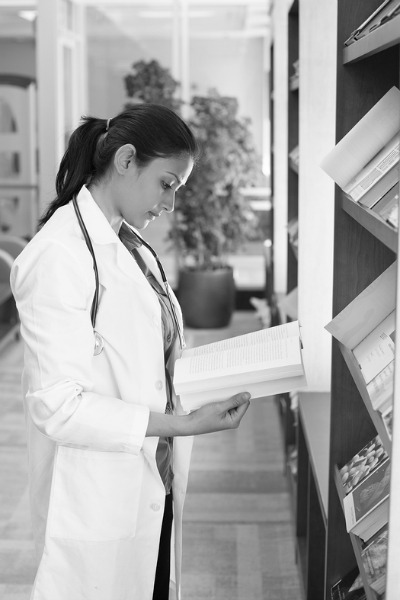 The Jeffrey Silver Humanism in Healthcare Research Roundup features summaries of recently published studies on humanism in healthcare. To receive email notification of new studies once per month, enter your information here and select "Jeffrey Silver Research Roundup" from the checkboxes at the bottom. See previous posts in this series.
Publications from Gold Foundation-Affiliated Authors
The relationship between resident burnout and safety-related and acceptability-related quality of healthcare: A systematic literature review (free full text)
Dewa CS, Loong D, Bonato S, Trojanowski L, Rea M.   BMC Med Educ. 2017 Nov 9;17(1):195.
This study was supported by a Mapping the Landscape grant.
In a systematic search of the literature, authors found over 4,600 articles related to the effect of resident burnout on safety and quality of healthcare. Ten articles were included in this systematic review. Results suggest there is moderate evidence that resident burnout is associated with patient safety issues such as resident self-perceived medical errors and sub-optimal care. There is less evidence that specific dimensions of burnout are related to quality of care and communication with patients.
The relationship between physician burnout and quality of healthcare in terms of safety and acceptability: A systematic review (free full text)
Dewa CS, Loong D, Bonato S, Trojanowski L.    BMJ Open. 2017 Jun 21;7(6):e015141.
This study was supported by a Mapping the Landscape grant.
In a systematic search of the literature, authors found over 4,100 articles related to physician burnout and its relationship to healthcare safety. Twelve articles were included in this systematic review and results suggest there is moderate evidence that burnout is associated with safety-related quality of care.
Incorporating the human touch: Piloting a curriculum for patient-centered electronic health record use
Lee WW, Alkureishi ML, Wroblewski KE, Farnan JM, Arora VM.    Medical Education Online. 2017 Nov 5; 22(1): 1396171 (free full text)
This study was supported by a Mapping the Landscape grant.
Authors piloted a "patient-centered EHR use" curriculum for second-year medical students. The curriculum consisted of a lecture and a group-observed structured clinical examination (GOSCE). Third-year students did not receive this training and thus served as a historical control group. Significantly more second-year medical students rated their knowledge and training as good. Most learners thought the training should be required for all students. This curriculum is now a permanent part of the authors' Clinical Skills course.
In pursuit of educational integrity: Professional identity formation in the Harvard Medical School Cambridge Integrated Clerkship
Gaufberg E, Bor D, Dinardo P, Krupat E, Pine E, Ogur B, Hirsh DA.    Perspect Biol Med. 2017;60(2):258-274.
Dr. Gaufberg is the Jean and Harvey Picker Director of the Arnold P. Gold Foundation Research Institute.
Graduates of Harvard Medical School's Cambridge Integrated Clerkship (CIC) describe several core processes that may underlie professional identity formation (PIF): encouragement to integrate pre-professional and professional identities; support for learner autonomy in discovering meaningful roles and responsibilities; learning through caring relationships; and a curriculum and an institutional culture that make values explicit. The authors suggest that the benefits of educational integrity accrue when idealistic learners are part of an educational model that aligns with their own core values, and when professional development occurs in the context of an institution that upholds these values.
The actual versus idealized self: Exploring responses to feedback about implicit bias in health professionals
Sukhera J, Milne A, Teunissen PW, Lingard L, Watling C.    Acad Med. 2017 Nov 14.
Drs. Sukhera, Lingard and Milne are Mapping the Landscape grantees.
Authors administered the implicit association test to 21 pediatric physicians and nurses, then interviewed the clinicians as they received their results. When provided feedback about their implicit attitudes, participants described tensions between acceptance and justification. They acknowledged desire for change while accepting that change is difficult. Most participants described the experience of taking the IAT and receiving their result as positive, neutral, or interesting.
Impact of prognostic discussions on the patient-physician relationship: Prospective cohort study
Fenton JJ, Duberstein PR, Kravitz RL, Xing G, Tancredi DJ, Fiscella K, Mohile S, Epstein RM.    J Clin Oncol. 2017 Nov 17:JCO2017756288.
Dr. Epstein is a Mapping the Landscape grantee.
Researchers conducted a longitudinal cohort study of 265 adult patients with advanced cancer who visited a group of 38 oncologists. They wanted to see whether there was negative impact on the patient-physician relationship when physicians discussed the patients' prognosis.  They measured patients' responses to surveys at baseline, then a few days after the prognosis discussion, and then again three months after the discussion. They found that discussing prognosis is not intrinsically harmful to the patient-physician relationship and may even strengthen the therapeutic alliance between patients and oncologists.
Other Publications
A meta-analysis of compassion-based interventions: Current state of knowledge and future directions
Kirby JN, Tellegen CL, Steindl SR.   Behav Ther. 2017 Nov;48(6):778-792.
Authors conducted a meta-analysis of 21 randomized controlled trials (RCTs) focusing on compassion interventions. They found that interventions were successful in creating significant changes on measures of compassion, self-compassion, mindfulness, depression, anxiety, psychological distress and well-being. However, the evidence base appears to rely predominantly on small sample sizes, indicating the need for larger scale RCTs.
How empathic is your healthcare practitioner? A systematic review and meta-analysis of patient surveys
Howick J, Steinkopf L, Ulyte A, Roberts N, Meissner K.    BMC Med Educ. 2017 Aug 21;17(1):136 (free full text)
Researchers wanted to learn how consistently healthcare practitioners express adequate empathy. They conducted a systematic review and meta-analysis of studies that asked patients to rate their practitioners' empathy using the Consultation and Relational Empathy (CARE) measure. Their analysis of 51 studies showed patient rankings of practitioner empathy are highly variable, with female practitioners expressing empathy to patients more effectively than male practitioners. The high variability of patient rating of practitioner empathy is likely to be associated with variable patient health outcomes.
An evolutionary concept analysis of compassion fatigue
Sorenson C, Bolick B, Wright K, Hamilton R.    J Nurs Scholarsh. 2017 Sep;49(5):557-563.
Authors analyzed 25 papers published on healthcare providers' compassion fatigue published between 2005 and 2015. In this paper they analyze the evolution of the concept of compassion fatigue, and identify surrogate terms, defining characteristics, antecedents and consequences of the term.
How situational context impacts empathic responses and brain activation patterns
Cheng Y, Chen C, Decety J.    Front Behav Neurosci. 2017 Sep 4;11:165. (free full text)
Researchers conducted an fMRI study of 100 female nurses who had been working as nurses for various amounts of time. They examined which areas of the brain lit up while the nurses were looking at images of injured or uninjured body parts in either a home context or a hospital context. Researchers found that the nurses reacted differently to pain depending on what context the injury was shown in. They also determined that nurses who perceived they could relieve a patient's pain were protected from burnout. The authors conclude that empathy is a flexible phenomenon.
The impact of cost conversations on the patient-physician relationship  
Brick DJ, Scherr KA, Ubel PA.    Health Commun. 2017 Oct 20:1-9.
Researchers conducted an experiment to learn about patients' attitudes and preferences for a hypothetical physician who discusses cost versus one who does not. Across three studies, using data from both the general population and cancer patients, they found that people prefer a hypothetical physician who discusses cost over one who does not. They also found that people use cost information to inform their hypothetical treatment decisions without changing their attitudes toward the physician who includes this information. Authors conclude that including cost in conversations with patients may not be as harmful as previously thought.