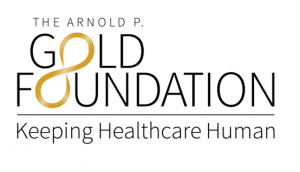 Englewood Cliffs, NJ – March 21, 2017 – The Accreditation Council for Graduate Medical Education and Arnold P. Gold Foundation have awarded three institutions the second annual DeWitt (Bud) C. Baldwin, Jr. Award. The three winning institutions are Montana Family Medicine (Billings, MT), Vanderbilt University Medical Center (Nashville, TN) and Virginia Commonwealth University Health System (Richmond, VA). The awards were presented this month at the 2017 ACGME Annual Educational Conference.
The award recognizes institutions that excel in their ability to cultivate and promote an environment that emphasizes respectful, supportive, and collaborative medical education and care delivery. The awardees demonstrated the joint responsibility of health system and graduate medical education leadership to deliver high-quality healthcare while simultaneously supporting the personal and professional development of students and faculty.
Of the 60 institutions invited to apply for this award, six were selected as finalists and participated in an on-site visit.  During the site-visit, each institution exhibited their humanistic culture through interviews with leadership, residents, nurses, administrative, technical, and other staff. The awardees demonstrated a shared commitment to exceed the accepted standards of care.
Saluting the winning institutions, Gold Foundation President and CEO Dr. Richard Levin said "Vanderbilt University Medical Center, Virginia Commonwealth University Health System, and Montana Family Medicine serve as examples of ideal learning environments, where a culture of humanism can be seen throughout. In turn, they train doctors who value and practice the same high, relational culture with their patients."
In the coming months, each awardee will be featured on the Gold Foundation blog to highlight their practices for teaching compassionate, collaborative, and scientifically excellent practice, and strategies for promoting an overarching humanistic culture.  In so doing, the Foundation hopes to share and facilitate widespread adoption of replicable humanistic education and practice.
"This recognition of 'the best' is an antidote to what ails us and allows us to insist that the way we train residents is rooted in the values of compassionate, collaborative care," Dr. Levin said.