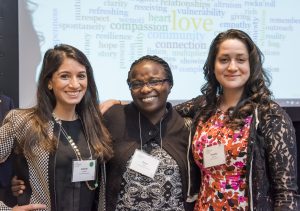 Last month over 300 healthcare leaders from around the country converged on Chicago to participate in the Gold Humanism Honor Society's 2017 National Conference. This year's theme "Cultivating Resiliency Through Humanism and Community" drew together a diverse group of medical students, residents, practicing physicians, faculty, philanthropists, thought leaders and even patients. The meeting – the largest in the history of the Foundation – was totally sold-out.
The three-day conference was designed to renew and strengthen participants' connection with humanism in medicine as a means of developing professional and personal resiliency. Topics ranged from "Understanding Moral Distress at the End-of-Life" to "Humor in Medicine: Communication and Conflict Resolution." The agenda was packed: there were 3 Plenary Sessions, 10 different workshops, small group breakout sessions, an intergenerational panel of physician activists and a final concert by Broadway and film singer Maureen McGovern.
Opening remarks by George Thibault, MD, the President of The Josiah Macy Jr. Foundation, reminded attendees that they "are not just technicians, informaticians or employees"…. but "healers, touching the lives of human beings at their most vulnerable moments, in the most personal and privileged way."
A poster session featuring 36 posters highlighted humanistic projects, events and practices across the United States and Canada. These projects reflected efforts in a variety of specialties to foster deeper patient-physician relationships. Most conversations were focused on improving empathy for underserved patient populations or marginalized groups.
Medical students Stevenson Chery, Dany Accilien, and Samuel Jean-Baptiste of Florida International University Herbert Wertheim College of Medicine, came to the conference to present their research, and left with a feeling of excitement at bringing their renewed optimism back to their institution. "This conference reminded us why we fell in love with medicine," Stevenson said.
Attendees took part in workshops on topics such as the art of healing, finding joy and meaning in medicine, cultivating attention and presence, and building resilience through evidence-based practices.
One of the most interesting products from the conference was a set of word clouds. At the start of the conference, Howard Silverman, MD — Chair of the GHHS Advisory Council — asked attendees to write down a few words in response to the question "What is humanism to you?"  "Compassion" and "Empathy" were the most popular responses. He asked again at the end of the conference and answers had shifted; "Love" was now the most popular response.
Vern and Frieda Heinrichs of Toronto, longtime friends of Arnold and Sandra Gold, expressed their excitement in the growing strength, enthusiasm, and youth of GHHS. Mrs. Heinrichs suggested that providers remember to keep in touch with their humanity. "To be human is to have this love that translates into empathy for the person that you are going to be helping," she said.
One of the best summaries of the conference came from Sandra Gold, who wrote, "Joy was everywhere…ideas were flying…. new relationships were created and old ones nurtured….networks were built…. people grew….and  smiles were abundant. It was a delightful and meaningful event; well planned and successfully implemented. Bravi."
---
This post was written with contributions from Shawn Thomas Liechty of the University of Utah School of Medicine.