Meet Dr. Vivek Murthy, 19th Surgeon General of the United States and recipient of the 2020 Vilcek-Gold Award for Humanism in Healthcare
"Medicine and technology may fail us at times, but human connection grounded in love and compassion always heals." —Dr. Vivek Murthy
From 2014 to 2017, Dr. Vivek Murthy served as the 19th Surgeon General of the United States. An internist, public health advocate, and tireless social entrepreneur who launched his first nonprofit at age 17, Dr. Murthy's career in public health can be traced back to his childhood, not long after he and his family arrived in America.
Vivek Murthy and his older sister, Rashmi, were born in the United Kingdom to parents from Karnataka, India. The family moved to Newfoundland when Vivek was 1 year old and then to Miami, Florida, when he was 3. His father was a physician and ran a family practice, which his mother managed.
"One of the things that appealed to me about doctoring when I was in grade school was the idea that you could approach people with a desire to heal, but in a manner that was informed by both science and humanity," Dr. Murthy said, recalling his father's practice. "I saw how much time he and my mother invested in nurturing relationships with the patients they cared for…. because they wanted to understand what was going on in their life."
The theme of connection has been threaded throughout Dr. Murthy's life and career, though as a child in Miami he often felt isolated and lonely. "When we moved to our neighborhood, we were the only immigrants and we didn't have anyone who shared—much less understood—our culture or traditions," he said. "It was what we expected, but it took me a long time to feel that I belonged here."
During his freshman year at Harvard University, Dr. Murthy and his sister founded VISIONS Worldwide, a nonprofit organization focused on developing youth-led health education programs about HIV and AIDS in India. She also went on to become a physician.
While he was leading a VISIONS workshop of 600 college students in Bangalore, a spark ignited in him: "I felt this sense of excitement and energy flowing into me," he explained. "It was one of those moments when I felt like 'I'm doing what I'm supposed to do in the world.'"
This feeling has driven Dr. Murthy throughout his career: By building organizations that bring people together over a common purpose, we can have a positive impact on the world. "Service is an antidote to loneliness," he said. "Through helping others we not only shift the focus from ourselves to them in the context of a positive interaction, but we also reaffirm for ourselves that we have value to bring to the world."
In 2008, after attending a campaign meeting to discuss a national healthcare plan, Dr. Murthy identified a need for a coordinated movement to engage healthcare providers. He realized that healthcare professionals could be a powerful force in developing effective and scientifically driven policy at the local, state, and federal levels. He envisioned bridging the gap between physicians and policymakers. The nonprofit organization Doctors for America grew out of this idea; the group was instrumental in developing the Affordable Care Act and continues to provide guidance to policymakers in developing a healthcare system to serve the people of the United States more effectively.
As U.S. Surgeon General, Dr. Murthy developed a humanistic approach to the opioid crisis. He examined the underlying factors of stress, economic inequality, environmental injustice, and a lack of access to comprehensive healthcare, and worked to destigmatize addiction. An advocate of LGBTQ youth, he condemned the harmful practice of conversion therapy and worked with President Obama to develop policies to protect transgender students in public schools. He also sought to expand preventative health education and to encourage people to connect with their communities as part of a healthy lifestyle.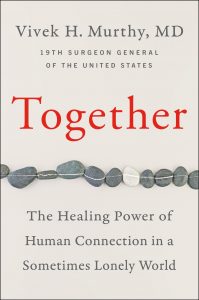 Since leaving the government in 2017, Dr. Murthy has been a leading public healthcare advocate and educator. He is devoting his attention to addressing the chronic issues of loneliness, isolation, and disconnectedness in our society, and is seeking to work with policymakers and medical professionals to build solutions. Dr. Murthy published his first book, New York Times bestseller Together: The Power of Human Connection in a Sometimes Lonely World, in April 2020.
Released at a time when communities in the United States were reeling from the impacts of the COVID-19 pandemic, Together offers lessons that are especially poignant. "We have the opportunity now to reengineer our social lives to think about the quantity and quality of time we spend with others, and to seek opportunities to serve other people as well," Dr. Murthy said. "I hope that we'll come out of this with a mindset that relationships are the foundation on which we build everything else [and] a recognition that building a people-centered life and a people-centered society is one of the most important challenges of our current age."
For his lifelong commitment to humanistic, community-centered care and service, Dr. Vivek Murthy is the recipient of the 2020 Vilcek-Gold Award for Humanism in Healthcare. He is also a Gold Humanism Honor Society member and a Gold National Humanism in Medicine Medal recipient. The Vilcek-Gold Award is a joint project of The Vilcek Foundation and The Arnold P. Gold Foundation, with support from the Association of American Medical Colleges.
This profile was first published on The Vilcek Foundation website.