On Friday, February 23, 2018, more than 30 medical institutions around the country celebrated the first Thank a Resident Day, a special day set aside to show appreciation for physicians in their early years of training.
Residency is a key component of graduate medical training, offering an in-depth exposure to medical practice. It can often lead to long working hours matched with many responsibilities. Residents serve as the "house staff" of the hospital and are an integral part to the healthcare team, often serving as indispensable resources for medical students, especially during a clinical clerkship. In 2018, the Gold Humanism Honor Society decided to bring to light the importance of the residence staff and encourage medical students at chapters throughout the nation to show their gratitude and appreciation.
"The importance of a resident to the delivery of much of today's healthcare cannot be overstated," explained Dorothy Levine, MD, director of GHHS.  "The same must be said of the difficulty of the position. Four years of medical school can teach a person the scientific principles and thought processes needed to become a physician. But it is the next phase of training that truly gives birth to a doctor.
"This is when a young doctor learns how to convert his or her knowledge into coherent, collaborative, compassionate and cost-effective actions to help another human being navigate life's difficult moments. The transformation from student to practitioner occurs most successfully in the presence of maturity, humility, patience, resilience and courage — all difficult traits to muster in the face of a nearly chronic exhaustion," Dr. Levine said.
Thank a Resident Day was an opportunity to support resident well-being through activities and encourage medical students to connect with the residence staff. Some medical institutions served meals and snacks throughout the day, while others chose to collect notes of gratitude for residents.
"The Gold Humanism Honor Society is proud to have sponsored the very first Thank a Resident Day," said Dr. Levin. "We look forward to watching its form and details change over the coming years, hopefully reaching even more residents in ever more meaningful ways."
Below is a snapshot of institutions celebrating Thank a Resident Day in their own way.
The Gold Humanism Honor Society from the University of Mississippi Medical Center showed their appreciation to their resident by handing out donuts to residents throughout the day.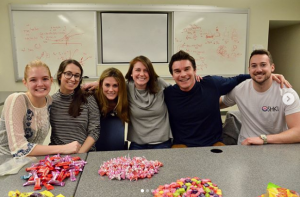 Students from the Gold Humanism Honor Society Chapter at Georgetown University School of Medicine celebrated Thank a Resident Day by delivering candy grams along with words of  thanks to residents at the MedStar Georgetown University Hospital