The Gold Connection is produced by the Gold Humanism Honor Society, a program of The Arnold P. Gold Foundation. Listen above or at Apple Podcasts, Spotify, Anchor, Overcast, RadioPublic, and many other podcast platforms.
In Episode 9, we kick off a series of conversations with Gold Student Summer Fellows who each embarked on a summer research or service project to magnify humanism in healthcare and help address health inequities. These are fascinating projects created by medical students to make a difference and grow their skills as future compassionate, relationship-centered physicians.
In this first conversation in our Gold Student Summer Fellows series, Gold Assistant Director of Program Initiatives Michelle Sloane interviews Richard Vuong and Lindsay Aldrich, who are 2022 Gold Student Summer Fellows and medical students at the Larner College of Medicine at University of Vermont. Their service project, titled U-Health, is focused on an interprofessional collaboration to create a mobile health vehicle to bring postpartum visits to mothers in rural Vermont.
Lindsay Aldrich, 2022 Gold Student Summer Fellow and medical student at Larner College of Medicine at University of Vermont. Lindsay grew up in the Hudson Valley and has been living in Vermont for the past 5 years, earning both her bachelor's and master's degrees in public health at UVM. She has always been passionate about humanistic medicine and women's health. She completed her master's thesis with the Vermont Department of Health on postpartum birth control use, worked as a Medical Assistant at Vermont Gynecology, and volunteered throughout college at the Planned Parenthood of Northern New England. Outside of medical school, Lindsay enjoys getting out onto Lake Champlain, skiing in the Green Mountains, and spending time with her friends, family, and new puppy named Hudson.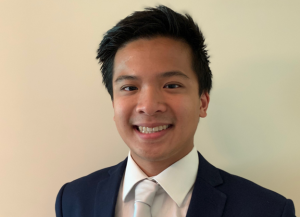 Richard Vuong, 2022 Gold Student Summer Fellow and medical student at Larner College of Medicine at University of Vermont. Richard grew up in rural Southeast Tennessee as a proud son of Vietnamese immigrants.
He spent most of his life there swimming in the Tennessee river each summer and playing competitive tennis. He attended college at the University of Tennessee in Knoxville. At UTK, he fell in love with medicine while volunteering at mobile health clinics established by Remote Area Medical (RAM). He worked tirelessly with RAM for all four years of college and continues to have a burning passion for bringing healthcare to underserved communities. Now, as a first-year medical student at the Larner College of Medicine at the University of Vermont, he is excited to learn the specific skills and knowledge befitting of a community-minded physician. Besides studying, Richard spends his time training for half-marathons, going to the local comedy club, reading philosophical Buddhist textbooks, and playing Catan with friends.
Show notes
Gold Student Summer Fellowships
How to Apply for a Gold Student Summer Fellowship 
17 medical students named 2022 Gold Student Summer Fellows
Larner College of Medicine at The University of Vermont
Transcript
Dr. Hellen Ransom
Hello, everyone, and welcome to another episode of the Gold Connection, where we share stories of humanism in healthcare, as well as tools and lessons for students, clinicians, and leaders. The Gold Connection, produced by the Gold Humanism Honor Society, a program of The Arnold P. Gold Foundation. My name is Dr. Hellen Ransom. And I'm delighted to introduce this episode. Today we kick off a series of conversations with Gold Student Summer Fellows, who each embarked on a summer research or service project to magnify humanism in healthcare and help address health inequities. These are fantastic projects created by medical students to make a difference in their community and around the world. We love supporting this work and learning how this fellowship can help plant the seeds for more leadership and advocacy surrounding humanism in the decades ahead in their careers as physicians. And if you're listening to this, in early 2023, we have just opened the application period for this year's Gold Student Summer Fellowships with an idea we encourage you to apply the Gold Foundation Fund grants to support research or service projects for medical students. The deadline for 2023 is March 20. Go to the Gold website and at the Gold-Foundation.org and look under programs for the Gold Student Summer fellowships for more information. This first conversation is with two medical students at the Larner College of Medicine at the University of Vermont, Richard Voung and Lindsay Aldridge. Their service project, titled U-Health, is focused on bringing a doctor's office to new mothers through a new mobile health vehicle at the University of Vermont Medical Center Hospital. Only about half of women who gave birth attended a postpartum visit within 60 days of giving birth, according to one study. Transportation is a major cause for missing appointments in this rural area. The U-Health mobile health vehicle will be designed and built through an interprofessional collaboration among a University of Vermont engineering team, the Vermont Department of Health, and the University of Vermont Medical Center. We are really excited to hear about the progress of their project. And now let's turn our conversation over to Michelle Sloane, the Gold Foundation's assistant Director of Program Initiatives.
Michelle Sloane
So, hi. Good morning, Richard and Lindsay. Thank you so much for joining us to talk about your Gold Student Summer Fellowships
Lindsay Aldrich
Thank you for having us.
Richard Vuong
Yeah, thank you.
Michelle Sloane
Well, before we get started in hearing about your project from the summer, it would be great to hear about what made you go into medicine in the first place. What are your passions? We're interested in each of you talking individually about your backgrounds.
Richard Vuong
Yeah. So, my name is Richard Vuong, and I'm originally from Tennessee, and I think working in a rural area, specifically in Tennessee, was probably the beginning of how I got really interested in medicine. My father is a podiatrist and my mom's a pharmacist, and exposure to healthcare was pretty soon, early on in my life. And I started shadowing and volunteering a lot of different clinics throughout college and high school. And I really fell in love teaching people, especially teaching people about the human body, kind of how to stay healthy and what to do to be healthy. And I felt that being a doctor was kind of the best teachers you can have if you are a Latin enthusiast. At the root for a doctor means to teach. And I thought it was really fitting, especially because I really have a passion for it in patient education. That's the biggest thing that got me into medicine, is really loving how to interact with patients and really teaching them how to be healthy and how to know more about their body.
Lindsay Aldrich
Yeah, my name is Lindsay, and I had a sort of similar reasoning for wanting to go into medicine as Rich. I've always been really interested in science and just the human body, and most of my undergrad studies and things I've been interested in was more from the public health and social science anthropology side of things. So, I did a lot of classes and learning on what it really means to be healthy, and then I was looking into more of the social determinants of health. I also really found that teaching people about how to be healthy and learning their own autonomy was really interesting to me. And I feel like the connection that physicians and providers have with their patients, having that really deep one on one connection, sometimes over long periods of time, was really, really interesting to me and something I really wanted to do.
Michelle Sloane
Well, thank you both for sharing that background. I'm curious to know how your path crossed. How did the two of you meet?
Richard Vuong
Yeah, so we had both an interest in a specific student interest group that we have here. It's called Design med. And this interest group is centered around entrepreneurship, and we kind of got thrown into it. I was really interested in the predecessors. Typically, what it is is that second year medical students run the clubs in the fall semester, and then first year medical students' kind of dip around and kind of see what they're really interested in. And I got really interested in I knew Lindsay was really interested in it as well. So when it came time for elections in choosing the next generation of leaders, I put my hat in the ring. And turned out I was the only one who put my hat in the ring. And the predecessor said, well, you're probably going to need somebody else, because running a student interest group can be a lot of work. And I knew Lindsay was really interested in this, and I said, hey, you should come along and run this with us. So, I think Design Med was how we started to know each other. And I think the U-Health, truck was part of a project from the predecessors, and I think that's how that got handed down to us.
Michelle Sloane
That's great. Did you want to add something, Lindsay? Yeah.
Lindsay Aldrich
No, I was just going to say the club in and of itself was really, really interesting. And part of what's so unique about it is that it's very interprofessional and collaborative. So there are groups of people from medical, like medical students as well as undergrads. So while I was an undergrad at UVM, I had heard of the club already. So getting into medical school here, I definitely knew I wanted to be a member of it. But then Rich really helped convince me that we should run together and be leaders together, which was something that I…
Richard Vuong
Wasn't thinking of originally. She was kind of hesitant at first, but I'm glad.
Michelle Sloane
Yeah, for both of you. It's good that you went for it and you were able to create something. And it's so cool that this hub exists for like minded people to gather around. So that leads us to your mentioned U-Health truck. So would you like to introduce your project, talk a little bit about it, how it came into being?
Lindsay Aldrich
Yes. So when Rich and I had gotten involved with the Design Med Club, the previous leaders had told us that one of the really awesome resources that this club has access to is the center for Biomedical Innovation, which is space on the undergrad campus where any student at UVM can get involved with and work on innovative and entrepreneurship projects. And we had gone to one of the meetings where they had said, one of the projects we're really thinking about starting is a mobile health vehicle for healthcare purposes. And at the time, the team was primarily engineering students and they didn't really have a team member that could come in and inform them on the healthcare needs or purposes for that. So it was a really natural fit. And Rich and I were both very interested. I think we both have some connections to rural health and mobile health in the past. So we felt like we knew enough about it and was passionate enough to get involved. So essentially we said we'd love to help out. And the project sort of grew from there. We started collaborating with engineering students as well as physicians at the medical center.
Lindsay Aldrich
And our project, U-Health, is what came out of that, which to do a little brief overview of. It's essentially a mobile health vehicle for postpartum women in rural Vermont. That's its primary focus at the moment. And a long term goal of it is to make it very interchangeable and modular so that over time it can be expanded to other fields of medicine as well. But that's just our first application.
Michelle Sloane
Yeah. That's so cool that you are able to lens that medical and rural health, lens to it and make it come to fruition. It sounded like this rural truck. Is this something that existed already or maybe you can describe a little bit about the landscape of the need that you are filling.
Richard Vuong
Yeah, so I think the current administration just released or just signed off on a mobile mobilization law and I think that kind of represents a kind of national scheme of mobile healthcare is all over the country. In fact, one of the main experiences that really got me into medicine in Tennessee was Remote Area Medical. I basically what remote area medical is. It's a very large organization based in Knoxville, Tennessee and they recruit volunteer healthcare professionals, dentists, optometrists, nurses, physicians across the country and they set up mobile healthcare clinics in rural areas and a big part of it is volunteership. And I went to volunteer and I worked there quite a bit. So that is one big organization. And I think Vermont also has a couple of mobile health organizations as well. One of them that I know is the Open Door Clinic. They specifically work with migrant dairy farm workers and they just recently acquired or in the process of requiring a Mercedes Benz type van to deliver vaccines to farm workers. And I worked pretty extensively, when during the COVID Pandemic trying to get vaccines for those workers as well. But their van is probably big enough to accommodate a physical space.
Richard Vuong
Another one would have been the Community Health Centers of Burnley things. So CHCP, that's another outreach van that's also been doing some things as well. And another one is a mobile ultrasound van. So, there have already been a couple of mobile health vehicles in Vermont and that's really helpful for Vermont because it's a pretty rural state in terms of area. But the one unique thing about U-Health is that we are specific for OBGYN care, specifically postpartum care. And I think that's really helpful, especially because transportation has been such a big issue not just because of weather and rural areas, but because of other means and affordability as well.
Michelle Sloane
Yeah, from what I understand talking with you, this would be the first one that has healthcare providers being the patients. Right, that's another unique feature, at least for postpartum care.
Lindsay Aldrich
As Rich mentioned, there are clinics like community health centers where they have providers on them. But at least in Vermont right now, there are a lot of mobile health programs with allied Health Professionals, Midwives and Dulas and other postpartum support. But there's not a postpartum provider that will go out and do mobile health visits. So certainly for postpartum care.
Michelle Sloane
All right, well, thank you for sharing all that. It's helpful to understand that this is a movement and you are creating this niche within it. So if you can talk a little about you have this idea, you have this team and how did you go about just getting started on the project, implementing the project?
Richard Vuong
Yeah, we had this project kind of in its general form when we first came on. Again, the predecessors were working on this mobile health vehicle. But as to what vehicle would be, would it be a van? Would it be a truck? Would it be us in our cars with a bunch of medications in the back that took a bit of research? We definitely had to do a background and kind of see one. What were the vehicles out there? And I think the very first thing is we needed to have a target population. We work very closely with Dr. Marjorie Meyer. She's in maternal fetal medicine, and she really identified postpartum women as these people who have sometimes they could have a hard time coming back for their follow up after they give her for a multitude of reasons. One of the biggest ones is transportation. And what we did is we did a little bit of background research to really see what we could do and how we could help them. A couple of needs assessments that we pulled up and showed a little bit some statistics as well. So about 56% of women who gave birth at the University of Vermont Medical Center, only 56% of them had actually attended a postpartum visit within the past 60 days from 60 days, 60 days of giving birth.
Richard Vuong
And only 60% of those women saw a provider for any reason at a UVM health network location anywhere in the state within two years of giving birth. And so we're losing a lot of patients to follow up. And another needs assessment showed that most of them, about 60% of those were the reason why they weren't able to attend an appointment was because of transportation issues. So that was really the line that we kind of delivered, and we're trying to kind of help, especially with this project.
Lindsay Aldrich
Yeah, I think we had a lot of big ideas, and then I think applying for the Gold Fellowship really helped us kind of organize and get our thoughts together and become a little more targeted and physical in kind of implementing those ideas. So that was really helpful.
Michelle Sloane
All right. Yeah. So I understand that help desensitize your thoughts. So what were you able to accomplish during the summer fellowship period? I know you're still deep in your project. What actually were you able to do?
Richard Vuong
Yeah, so I think the crowning achievement is this idea of the mockup space. What is the mockup space? Basically is it's located on the campus of the University of Vermont, and specifically the Stem building called Discovery Hall. And in that hall, there's this workshop space that is pretty large. And in the corner, tucked into that space is a six and a half feet tall, seven and a half feet wide, and 20 foot long, kind of taped off area that we've kind of created. And it's tucked into this corner. So kind of the back of the truck is the wall of the room itself. And on the right side, as you're walking in, is the other wall of the room. And over the summer, we made a couple of trips to Lowe's, and we actually rented a uhaul truck to kind of deliver all these things. And on the left side of the wall, we put up these wooden plaques in a way to make this enclosed area. And we've outfitted with various sorts of things. We found an OBGYN table just recently and off a Facebook Marketplace, because that has been a lot of help for us.
Richard Vuong
And we have different medication, medical equipment. We have a scale, we have blood pressure cuffs, we have countertops that we try to outfitted from various furniture that we found on the side of the road. And we actually finally got a toilet, which was really funny because I asked a first year medical student to come and find a toilet. And he was very surprised about it because in fact, he thought it was kind of a joke played on him. But we have a toilet that we managed to put in there to kind of really depict what exactly the inside of the truck would be. And I think that is where we're standing on now. And I think the next step would be to really put a ceiling on it and to really make it as if a true patient's office, a doctor's office, and hopefully we can bring some patients and some physicians in to give us some feedback on it. But that was a really big achievement for us.
Lindsay Aldrich
Yeah, I think the goal with this mock up space is to have physicians, volunteers, and our people who can give us a patient perspective, come in and tell us their opinions and maybe run through a mock appointment, because there are a lot of conflicting spatial features to this, like a very small size. But you want the patient to be comfortable, feel safe. Privacy. There are lots of conflicting issues. And so I think being very thorough and building this mockup space first, collecting data on that is going to be really helpful for when we transfer it towards the large truck.
Michelle Sloane
Yeah, I really appreciated the description of the physical space and people who are listening can imagine what it looked like. And of course, the funny situations that can arise from a Facebook Marketplace interaction.
Richard Vuong
Really helpful. Surprisingly helpful.
Michelle Sloane
Yeah.
Lindsay Aldrich
Since we last talked, we didn't have the OBGNY exam table. We have since acquired it, which required getting a U Haul on the ferry to Plattsburg and then picking up the OBGYN table, bringing that on the ferry. So I didn't imagine an OBGYN table on the ferry before, but we…
Richard Vuong
Had to cross a lake. We had to cross a lake in order to get an OBGYN table. So that was very fun. It's kind of like a field trip.
Lindsay Aldrich
I think this is like the key what Rich and I find really fun about innovative projects and really trying to find new ways to reinvent things and make them more efficient and helpful. So we're doing it in a way that we can and saving as much resources as we can, which I think is part of a challenge that we find fun.
Michelle Sloane
Yeah, that sounds really exciting. I'm envisioning a visual, like once you get further in your project, you can bring on an artist to your team and have some kind of comic strip of your adventures.
Richard Vuong
Yeah, that's another thing. We have a full print out of a full size door, like an eight foot tall door that we printed out and we've kind of smacked it against the wall of the truck itself to really show that we're going to have a door in this and this is exactly what we want to look like. So I think the visual aspect is extremely important.
Michelle Sloane
So maybe you talked about sourcing the materials and a little bit about the research. How did you actually figure out the human factors measurements that you would need a little bit more detail into what went into the design?
Lindsay Aldrich
Yeah, I think that's part of the really awesome piece of doing this with such an interprofessional collaborative team is that we have so many engineers, both professional and students, who are doing a lot of the human factors engineering and dimensions. And what's helpful is that Rich and I can come in and say for postpartum visits, we need an ultrasound, and ultrasound will be 20ft, 10ft, whatever, and we can give them the dimensions of what's needed, and then they can really tell us, well, it actually needs this much insulation, so we need to make the truck this much smaller. So it's really a team effort and we're all using our knowledge sources together.
Richard Vuong
And we've been in pretty close collaboration with the OBGYN department here. They're the ones that have been really helpful in terms of allowing us to come into their own patient rooms. So what we would do, we will go over to the hospital and we would look at the clinics and we would take out a tape measure to really make sure that the dimensions really matched up and also making sure that the table is this size and we want this much space to prepare any sort of medications or make sure that you have this much space. In terms of patient privacy, I think really collaborating with clinicians was really important for that human factor.
Lindsay Aldrich
And I think the mockup spaces, that's also where that really comes into play because we can have a 3D design on a computer that says, well, the bathroom should be this many feet and the exam table could be over here and that should be enough space. And then when we brought our exam table into our mockup space, we realized we can barely squeeze past this. It looks fine on paper. And if we had just nailed that down into the truck, that would have been a whole waste because now we need to redo this. And I think that's really where a lot of this effort is coming in in these early stages.
Richard Vuong
Yeah. And keeping making sure that we're in accordance with Ada, so with disabilities as well. So patients who may have wheelchairs, we have to make sure that measurements and they actually can feel comfortable and get through the door and not feel claustrophobic and all these things that are just as important. So we're collaborating with clinicians and engineers. We're using sources that are reliable and really just a lot of conversation and a lot of asking questions.
Michelle Sloane
It's really a lot it's such a collaborative effort. It's really cool how you've brought in so many different perspectives into it and really thinking from the patient's perspective and bringing that part in. So you talked about all these problem solving and the fund components. What were some of the bigger challenges that you faced? It was probably a year ago when you wrote your proposal for what you set out to do in the summer. So if you could talk a little about the bigger challenges.
Richard Vuong
Yeah, I think one thing that we may know more of is just in terms of privacy. I don't know if you want to mention that.
Lindsay Aldrich
Yeah, I think when it comes to the mock up space, like I mentioned before, there are a lot of competing factors like privacy and spaciousness. And one of the big issues we're trying to do now is within our mockup space, separating out a physician area and a patient area. And we're trying to do that in ways that maximizes patient and provider privacy while they're working, but doesn't continue to make the space feel even smaller. So little things like that come up and yeah, I think I would say other big challenges have been finding sources. I mean, it took us months to find an OBGYN table that was cheap enough to transport things, pop up on ebay and disappear. And so it's a lot of just moving on top of those things and then obviously, like larger scale challenges. We're just looking towards the future is getting funding to bring in a vehicle so that we are ready to go to the next phase and then eventually even further long term is figuring out how to implement the phase where we start running this project.
Richard Vuong
Yeah, that funding source has probably been our biggest challenge, I would say, as we have right now. We've been doing the best as we can with the funding that we have available. The mock up space was relatively cheap. I mean, wood is like $40 for each plaque and we had six plaques. So in terms of actual purchase of the truck, though, it would be probably costing about upwards of $60,000 to actually get the truck. And that is not including the necessary equipment that will be in the truck as well, probably adding another 40,000. So it's a pretty expensive project, although it has a really powerful impact and potential and I think we need to find the credible sources, any funding we've been looking at NIH funding, internal funding, extramural funding, really anything, anyone who is also interested and passionate about this mission just as much as we are. I think that will probably be the thing that will take this project to the moon, really. But I think the Gold Foundation has been incredible in helping us, showing that this is possible and showing that we have the collaboration, we have all, I guess you could say, the human motivation to do this thing.
Richard Vuong
The only thing you need is to give us a little bit of help and we can run with it.
Michelle Sloane
Well, our audience is the Gold Foundation community, so if anyone's listening, we have angel investors out there. We have a project in rural Vermont.
Richard Vuong
We'll bring you in.
Michelle Sloane
You talked a little bit about what your next phases are. Can you talk a little bit more about some tangible next steps for your project?
Lindsay Aldrich
Yeah, I think like we've been mentioning, we definitely are getting close to finishing our mockup space and we'd love to bring in patient volunteers, providers and collect some data and do some focus groups with individuals who are volunteering to walk through an appointment. In addition to that, I think we're looking to collect some of our own data from our target populations because while we did find a lot of data, we would like something a little more specific towards our projects. So we currently are in the works of sending a survey out to our first target demographic, which is going to be women in Rutland County. And we're looking to collect more information on postpartum data, but as well as interest in mobile health, familiarity with mobile health, specific concerns with accessibility, things like that. So we're hoping to get some more data both from our mockup space and from our population and hopefully combine those and start making any last minute changes before we're ready to move on to the next step.
Richard Vuong
Another one would be conferences. We were looking up to put together a poster last minute at the end of the summer in August. So University of Vermont had their first health equity summit in there. We kind of did a good bit of networking and outreaching. There are a lot of really interested audience members, everyone from politicians to physicians to patients themselves who are really interested in this and I think really finding and that ties into funding, of course, but also just kind of getting the word out that we're working on this is an actual thing that's happening. And I think being on the lookout for our next conference that we can talk to. There is one in Arizona with the mobile health conference. That one I believe might be towards later, not this semester, but probably around the summertime that we probably would want to be going to. And I think that would be really cool to go to because we can maybe talk about the same challenges and how they overcome those challenges as well. So I think really looking at networking would be enormous for us.
Michelle Sloane
Yeah, it sounds like you're finding that community, that broader community, and putting your project out there. So that's really awesome. I'm interested in your reflections about accessible healthcare in general, since that's what your project is all about. Could you talk a little bit about how you would define accessible healthcare? Maybe what your personal avenues of what you're going to pursue down this route would be?
Lindsay Aldrich
Yeah, I think like I said, my background is primarily in public health, and so I certainly have learned a lot that health and healthcare mean very different things to different people. And I think access to me just sort of means choices and knowing that if you think of health as a certain thing, hopefully there will be people who can help you get what you need to feel healthy. Certainly in a more practical standpoint, we've been primarily focusing on rural health. So knowing that you're able to make it to a doctor's appointment if that's what you need, and that perhaps there are many other issues aside from health that are preventing you, like transportation or childcare or time off of work or just winter weather, things like that. So really just making sure that people have what they need to take care of themselves and keep themselves feeling healthy and happy in their community, whatever that means to them.
Richard Vuong
Yeah, I mean, that's a really good definition. I would say very similar to what Lindsay said. And I think it's really important just being able to get to the doctor's office and be able to actually get an appointment. In my mind that's the clear picture of accessible healthcare is that can I get there and can I afford it? Because I think that is there's so many different deterrence from trying to get the healthcare that you need. You may know that you need to do this thing, but you also know that when your insurance may not cover, and you may not even have insurance either, and you may not even have the transportation to get there. So I think are you able to get there and you're able to afford this healthcare? I think that is what accessible healthcare is to me.
Michelle Sloane
Yeah, I really like both those definitions, the choice and can you get there? Thank you for sharing those insights. I'd like to ask you each about what you discovered about yourself during this whole process and maybe how it has implications on how you'll be as a doctor.
Richard Vuong
Yeah, I think it's made me really fall in love with collaboration, especially interdisciplinary collaboration. I think medicine itself is a very interdisciplinary field, but I think it's also very fascinating to me to see how an engineer thinks about this problem, or how a politician thinks about this problem, or an activist, or an advocate, or how a lawyer thinks about this problem. I think it's really cool how this issue that really affects all of us, no matter who we are, no matter where we are. I think it's really cool to see how people think differently about the same things. And I think that is really powerful in a way. Because if we put that together, I think maybe we can make some sort of solution to this problem that we're all facing together.
Lindsay Aldrich
Yeah, I completely agree. And going back to your other question about accessibility, I mean, the physicians can come up with ways to save women from postpartum hemorrhage, but if they aren't able to get there or laws are preventing certain things or access, that's not going to happen. So I think collaboration and knowing that it's not just me that needs to make this happen, it's that we all need to make sure that this gets to where we're trying to get it is really important.
Michelle Sloane
Yeah, that's very beautiful about all the hands, everyone's on deck and yeah, we're all in this together, which is true. So the last question I have is what advice would you give to another student that is thinking about applying for the Gold Student Summer Fellowships embark on a service project or biomedical innovation project? What advice would you offer them?
Lindsay Aldrich
I think both Rich and I would say there were plenty of times where we felt like we're in medical school, we have classes, we have exams coming up, how are we going to have time to do this? And I feel like my advice is just do it. Because if you are passionate about it, like both Rich and I are, the amount of work that you put into it, you will get that energy back. It's not something that drains you, it's generally something that you leave feeling energized from. And so if it's something you're passionate about, it shouldn't really have that much of a time impact or energy impact on you. So I would say definitely just follow your passions.
Richard Vuong
Yeah, I definitely think do your research, do your due diligence. There's this great quote by Winston Churchill that I try to live by. Plans are of little importance, but planning is essential. And I think that really encapsulates something for me because you should be planning and should be prepared as best as you can, but always be ready to pivot. And I would say even welcome being able to adapt to different situations. I know, especially when we had this project at the beginning and we have a weekly update newsletter that's sent out by the school and the Gold Foundation pulled up and I said, okay, this looks cool. And I clicked on it and there are two different categories, research and community service. And I thought that this project works perfectly and it qualifies for the community service. And I thought, well, this is probably going to be a really big thing. So I thought, well, I think it wouldn't hurt to apply, but I think I should probably prepare as best as I can, prepare if we get it and prepare if we don't get it as well. And I think very fortunate that we put everything together, asked a lot of questions, collaborate a lot of emails.
Richard Vuong
And I think once we were fortunate enough to get it, when we realized that we probably want to be able to buy a truck, we were really open to pivoting. We were open to really, well, if we can't get a truck, what can we do? And I think the mockup space was huge for that. Collaborating with other community members was really important for us and really saying, okay, well, we're going to need a needs assessment eventually, so might as well work on it now. So I think plan as best as you can, but also be ready to change.
Michelle Sloane
Wise words. Thank you both so much for sharing about your project, your insights. It's been really interesting to learn about it and I wish you the best of luck in making it all happen.
Richard Vuong
Thank you for having us.
Lindsay Aldrich
Thank you so much.
Michelle Sloane
Thank you. Take care.
Dr. Hellen Ransom
What a fantastic and inspiring project. Thank you, Richard and Lindsay, for your important work. Look for more conversations with Gold Student Summer Fellowships this podcast in the upcoming episodes. And remember, the application period is now open for 2023 fellows. The deadline is Monday, March 20, and again, it's open to medical students. So if you're a medical student listening, please apply. You can visit our webpage, gold hyphenfoundation.org to learn more. We'll also be posting the transcript and show notes from this episode. To find that information, go under resources and to the podcast to find notes. Again, as always, thank you for listening and until next time, take care. Credits for today's episode. Music by Luca FRA ULA for Follow That Dream host and Audio Editor Dr. Helen Ransom Producers Louisa Tvito and Brianne Alcala.