The Gold Connection is a podcast created and produced by the Gold Humanism Honor Society, a program of The Arnold P. Gold Foundation. Subscribe at Apple Podcasts, Spotify, Anchor, Overcast, RadioPublic, and many other podcast platforms, or view the full list of episodes.
In Episode 8, we talk with two leaders at a one-of-a-kind medical school: Oklahoma State University College of Osteopathic Medicine at the Cherokee Nation in Tahlequah, the first medical school to be on tribally affiliated land.
Gold Humanism Honor Society Director Louisa Tvito interviews Interim Dean Dr. Natasha Bray and GHHS Chapter President Alex Douglas. OSU inducted its first members into GHHS earlier in 2022. Learn about the campus' unique curriculum, the story behind its beginnings and purpose, and the particular challenges facing Native Americans in accessing humanistic care.
Natasha Bray, D.O., M.S.Ed., FACOI, FACP
Dr. Natasha Bray is Interim Dean of the OSU College of Osteopathic Medicine (OSU COM) at the Cherokee Nation in Tahlequah. She previously served as Associate Dean for Academic Affairs at OSU COM at the Cherokee Nation since 2018. Dr. Bray also serves as Associate Dean for Accreditation and is Faculty at Tahlequah Medical Group Internal Medicine Program.
Prior to joining OSU Center for Health Sciences, Dr. Bray served as the Associate Dean of Clinical Medicine at the Arkansas College of Osteopathic Medicine in Fort Smith, and the Vice President of Academic Affairs/Designated Institutional Official for Broward Health in Fort Lauderdale, Florida.
Board certified in Internal Medicine and Addiction Medicine, Dr. Bray earned her Doctor of Osteopathic Medicine degree from OSU-COM and went on to complete her internship as Chief Intern Physician at the Philadelphia College of Osteopathic Medicine. She then completed her residency at Cambridge Health Alliance/Harvard Affiliated Hospital.
Dr. Bray has extensive experience in the development, accreditation, and delivery of educational programs for both undergraduate and graduate medical education. She serves on several national committees and has dedicated her career to medical education as a vehicle in serving vulnerable populations and improving access to quality health care.
Alex Douglas, BS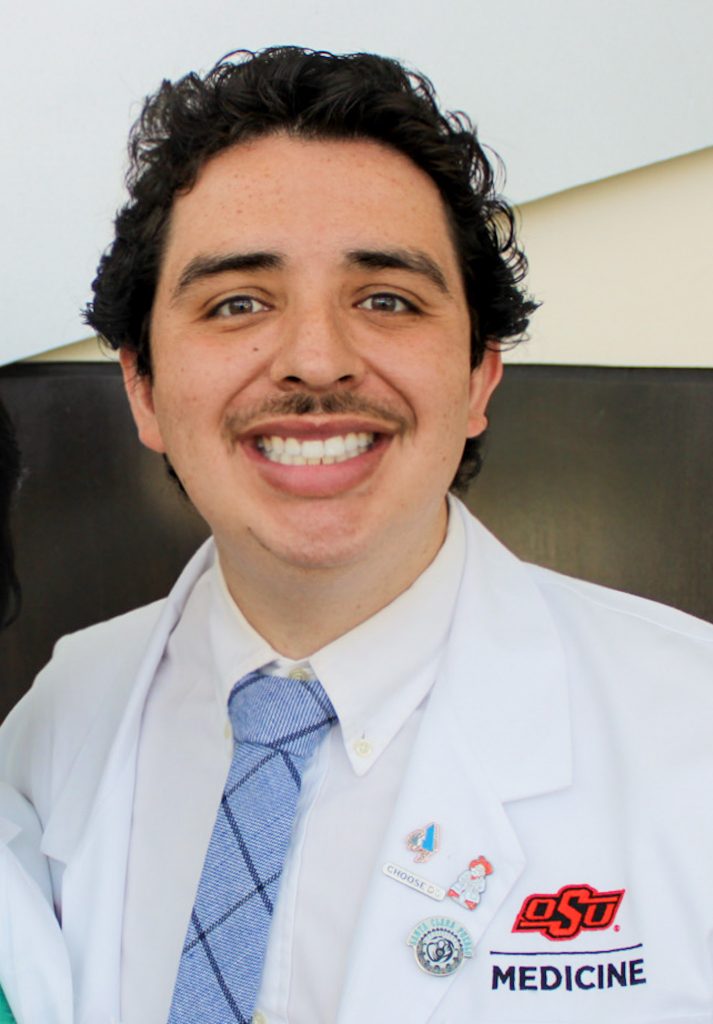 Alex Douglas is a second-year medical student at Oklahoma State University College of Osteopathic Medicine in Tulsa, OK. He is from Moore, Oklahoma, and graduated from the University of Oklahoma with a Bachelors of Science in Biomedical Engineering in 2019. Alex is a part of the Santa Clara Pueblo American Indian Tribe in Espanola, New Mexico.
At OSU, Alex is involved in leadership within campus organizations like the Native American Students of Osteopathic Medicine, Student Osteopathic Internal Medicine Association, and the American College of Osteopathic Pediatricians. Additionally, he is the founder of OSU's Gold Humanism Honor Society chapter.
During rotations, Alex will be participating in the inaugural Tribal Medical Track cohort where he gets to spend some of his rotations in Tribal healthcare entities. Alex is interested in pursuing a career in internal medicine and pediatrics (Med/Peds) and is excited to get the experience of serving Tribal Oklahoma.
Show notes
Oklahoma State University School of Osteopathic Medicine
Oklahoma State University Takes Major Steps to Fight Health Disparities for Native American Communities (INSIGHT into Diversity magazine)
Medical school addressing need for rural physicians (The Journal Record)
Transcript: Coming soon!