Meet Denisse Rojas Marquez, co-founder of Pre-Health Dreamers and recipient of the 2021 Vilcek-Gold Award for Humanism in Healthcare 
This profile was first published on the Vilcek Foundation website here.
When Vilcek-Gold Award recipient Dr. Denisse Rojas Marquez was just a few months old, her family immigrated to the United States from Mexico.
"I have no memories or any recollection of Mexico. The United States has been the only country that I have known," she said.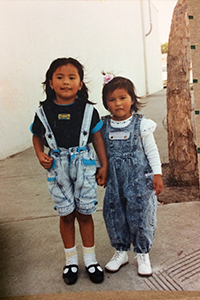 "Growing up, I vividly remember a really warm, supportive family and community," recalled Dr. Rojas Marquez, "but it [also] felt like we were living two lives: one where I was in school and pushing myself academically, and the other where we feared immigration [authorities]."
Dr. Rojas Marquez' experience of being an undocumented immigrant in the United States is one that is shared by over 11.4 million individuals. When the federal Deferred Action for Childhood Arrivals (DACA) policy was introduced in 2012, she was eligible to apply. DACA confers temporary protection to immigrants who arrived in the United States as children, many of whom — like Dr. Rojas Marquez — have known only the United States as home.
Being undocumented charged Dr. Rojas Marquez' childhood with fear and anxiety. In her mind, healthcare felt like a "luxury" that was fraught with worry, both due to the high costs of medical care and concerns about being denied care or subjected to scrutiny as undocumented immigrants.
"It was eye-opening to think that we didn't have the same access to healthcare as other people," she said. "That, for me, felt like an injustice."
Galvanized, she decided to become a doctor. "I felt like a career in healthcare would be a way to find bridges and be a champion for folks who traditionally have challenges in accessing healthcare. I wanted to be someone who — when people feel vulnerable — they can trust and know I have their best interest. People deserve the right to doctors who are culturally competent."
Dr. Rojas Marquez earned her bachelor's degree from the University of California, Berkeley, and her Master's in Public Policy from the Harvard Kennedy School of Government. She graduated with her MD from the Icahn School of Medicine at Mount Sinai, and in June 2021 she began work as a resident physician in the Department of Emergency Medicine at Boston Medical Center.
While applying for medical school, Dr. Rojas Marquez co-founded PHDreamers (Pre-Health Dreamers) with Dr. Jirayut "New" Latthivongskorn and Angel Ku. They intended to build an informational network to support undocumented students in their pursuit of careers in healthcare. As PHDreamers grew, a feeling of collective power emerged.
"If we could use our voice, we could really start changing policies," said Dr. Rojas Marquez. "No one should be denied access to higher education because of their immigration status."
PHDreamers began to advocate for more progressive policies to support undocumented students in the United States—both in academic institutions and at the state and federal levels. An outspoken advocate and public speaker, Dr. Rojas Marquez testified before the Senate Judiciary Committee in defense of the DACA program: "DACA was the answer that lifted the ceiling to my educational and career ambitions," she said. "DACA lifted me out of the shadows; I no longer lived in fear."
Dr. Rojas Marquez receives the 2021 Vilcek-Gold Award for Humanism in Healthcare alongside her PHDreamers co-founder Dr. Latthivongskorn. The Vilcek-Gold Award is a joint initiative with The Arnold P. Gold Foundation. Past recipients of the award include U.S. Surgeon General Dr. Vivek Murthy and Dr. Mona Hanna-Attisha.