Each year, the Gold Foundation compiles a list of great reads for clinicians who care about the human experience of illness, who care about caring in their role as a healthcare professional. These thought-provoking reads, all published since we released our last list, are presented in alphabetical order by author. If you have a suggestion for next year's list, please email balcala@gold-foundation.org.
The books on this list are available through the Gold Foundation's Bookshop page. Each purchase supports both the Gold Foundation and independent bookstores.
Grief Healed: A Physician's Guide to Dealing with Grief and Thriving by Dr. Sona Bhatnagar
A gripping, candid and spiritual tale from a physician who faced three enormous losses. As she writes in the introduction: "I've died three times. While not actual physical deaths, the shock and devastation accompanying each event crushed my soul. This included my husband's infidelity and then the immediate deaths of both my husband and my beloved teenage son." A Grief Recovery Specialist herself, Dr. Bhatnagar uses her powerful stories to create lessons for others also facing a journey throughout darkness, whether it be the death of a loved one, or the loss of something dear to them such as their good health, a job, finances, or an important relationship. Dr. Bhatnagar crosses boundaries often erected by the medical establishment, sharing spiritual connections while struggling to make sense of the events and the future ahead. With bold honesty, she unveils a family story of grief and the path to healing.
Leading through a Pandemic by Michael J. Dowling
When the coronavirus pandemic began sweeping the globe in early 2020, hospitals and health system convened emergency task forces and drew up plans for increasingly dire scenarios. Northwell Health, a Gold Partners Council member and the largest employer in New York with 23 hospitals, faced the epicenter of the spring 2020 spike of COVID-19 cases. The health system was experienced in emergency preparation, having weathered the 9/11 attack and Hurricane Sandy, among other catastrophes, and its leaders and staff sprang into action immediately. This swift and informative read is filled with surprising revelations, vivid scenes, and valuable practical advice to other health systems, as CEO Michael Dowling shares the critical teamwork and decisions in a harrowing time that led to caring for so many COVID-19 patients. This is an excellent case study with essential guidance for other hospitals on how to prepare for the next disaster.
The Healer's Burden: Stories and Poems of Professional Grief, edited by Melissa Fournier and Gina Pribaz
This anthology of exquisite poems, essays, and stories travels where the healthcare industry often refuses to go: carving out time and space to process the deep grooves of loss. In the foreword, Dr. Rana Awdish, a Gold Humanism Honor Society member and the Gold-AAMC 2019 Jordan J. Cohen Lecturer, notes that this book "casts light on one of healthcare's last hidden liabilities: professional grief." She writes: "Medicine lacks built-in spaces to do the work of grieving, though grief is at times the only constant. The grief of our patients, the grief of their families, the grief of our colleagues, and our own splintering grief." The wide range of pieces reflect such a myriad of experiences and offer a way inward for clinician readers to examine their own grief. Even more so, this book offers practical tools, with the four sections each ending in discussion questions and writing prompts. A guide to using this book with groups is also included at the end. Together, the editors and writers have created an important resource to help address professional grief, an overlooked yet immensely resonant and unavoidable aspect of the human side of healthcare.
On Vanishing: Mortality, Dementia, and What It Means to Disappear by Lynn Casteel Harper
"Nearly six million people in the United States are living with Alzheimer's — making it the nation's sixth leading cause of death. And yet nuanced thinking about dementia is largely absent — perhaps even nonexistent — in public discourse," writes Lynn Casteel Harper, who has been a nursing home chaplain and is now a minster of older adults in Harlem. With a critical eye, she conjures up this missing nuanced discussion, weaving a kaleidoscope of experiences with sensitivity and complexity. She observes both people in the U.S. healthcare system and her own family facing the challenges of dementia – and perhaps just as devastating, the isolation and assumptions from others. Drawing on theology, art history, philosophy, literature, and science, she probes the meaning of disappearing, how society grapples with "advancing oblivion," and how we might together forge a more human shared experience. The book is laced with exquisite phrases, revelations, and questions that call to all of us to examine the perception of dementia and each of our roles in ensuring, in the end, humanism in care and in living.
We Are Perfectly Fine by Dr. Jillian Horton
This memoir by Dr. Jillian Horton, a leading Canadian physician and 2020 recipient of the AFMC-Gold Humanism in Healthcare Award, has become a best-seller in Canada, and is now finally available in the United States. As a child, Dr. Horton had an older sister with serious medical conditions and saw up close the travails of illness, the humanism — or lack thereof — of doctors, and the vast impact on a family. From that deep early understanding, she was drawn to become a physician herself, only to face a healthcare system that demanded long hours and little or no time to process the grief, mistakes, and human side of care, factors in the epidemic of burnout. In desperation herself, she ends up at a mindfulness retreat — lugging along a hefty dose of skepticism and dark sarcasm. There, guided by Drs. Ron Epstein and Mick Krasner (two long-time collaborators with the Gold Foundation), she meets other clinicians and fellow travelers on this hard path. Her biting wit, hilarious observations, and raw truths create an unforgettable picture of the difficulties of modern medicine – and a possible path to reach a more humane way of living and caring.
Between Two Kingdoms by Suleika Jaouad
You might recognize Suleika Jaouad's byline from her New York Times' column, Life Interrupted, detailing her story as a young 20-something woman with cancer – and its many agonizing treatments and uncertainties. This is a fuller recounting of her experience, taking you along for both the arc of her illness and the great strains it puts on her life and future, from her relationships to her career ambitions to her friendships with fellow cancer patients facing the brutal likelihood of young death. She grapples with each heart-wrenching twist with thoughtfulness and honesty, and eventually, when her doctors deem her stable enough for a few months away from the hospital, begins a cross-country road trip to meet a handful of Times readers who had written to her after reading her column.
Finding Joy in Medicine by Dr. Reza Menash
In this slim nonfiction book, with a foreword by Gold Trustee Dr. Kimberly Manning, Dr. Reza Manesh shares his journey from a child, immigrating to America from Iran, through the challenges of medical school and residency, to now a general internist and teaching physician in Chicago. He is also co-founder of the beloved Clinical Problem Solvers podcast, with a mission of democratizing the teaching of diagnostic reasoning and listeners hailing from more than 165 countries. Dr. Manesh writes with heart and humility, illustrating hard-won lessons. This thoughtful book might be particularly appealing to trainees early in their journey who may at times wonder similar questions to his: "Am I on the right path?" or "What is the point of appearing confident if you are not?"
What Happened to You? by Dr. Bruce Perry and Oprah Winfrey
This bestseller features a conversation between one of the leading experts on childhood trauma, child psychiatrist and neuroscientist Dr. Perry, and Oprah, who beyond her global stature as talk show host, author, and actor, has also been driven to learn more about the impact of trauma from her own difficult childhood. The book's title refers to the need to understand personal histories and their impact, as the authors' urge a shift from questions like "What's wrong with you?" or "Why are you behaving that way?" to "What happened to you?" Written for the general public, this book is also a helpful introduction for healthcare students and clinicians alike to foster greater understanding of the effects of trauma, regardless of their patients' current ailments. The book pulls you along through stories to critical concepts and scientific explanations to broader societal implications – all with unforgettable lessons and guidance for patient care.
Caste: The Origins of our Discontents by Isabel Wilkerson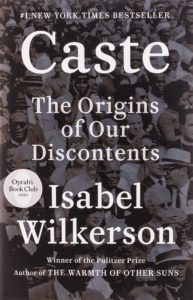 In this brilliant and deeply researched book, Pulitzer Prize-winning journalist Isabel Wilkerson explores how America today and throughout its history has been shaped by an insidious caste system, a rigid hierarchy of human rankings. Linking the caste systems of America, India, and Nazi Germany, she explores eight pillars that underlie caste systems across civilizations, including bloodlines, dehumanization, and occupational hierarchy. Through riveting stories about real people, Wilkerson shows how the caste system impacts Americans every day, including the health costs in depression and life expectancy. Her revelations point to ways America can move beyond the artificial and destructive divisions of humans. While only a small portion of the book examines the healthcare system explicitly, the wide societal factors that also ultimately foster or undermine good health are probed in great detail. This book offers a spark for clinicians to help dismantle the caste system through their daily interactions with patients, colleagues, and trainees and by joining in addressing inequalities in the healthcare system.
Read Summer Reading Lists for Compassion Clinicians from previous years.