Each year, the Gold Foundation compiles a list of great reads for clinicians who care about the human experience of illness, who care about caring in their role as a healthcare professional. These thought-provoking reads, all published since we released our last list, are presented in alphabetical order by author. If you have a suggestion for next year's list, please email balcala@gold-foundation.org.
The books on this list are available through the Gold Foundation's Bookshop page. Each purchase supports both the Gold Foundation and independent bookstores.
Radical Acts of Love: How We Find Hope at the End of Life by Janie Brown
Janie Brown is a leader in oncology nursing, author, and founder and executive director of the Callanish Society, a nonprofit organization in Canada that assists individuals who are near the end of life. In 20 conversations with people who are dying, Ms. Brown reframes the conversation around death from one of fear to one of hope. Through intimate dialogue with individuals with terminal illness – including a fellow nurse, a young father, man who chooses to undergo medical assistance in dying – Ms. Brown illuminates how people prepare for the end of life and learn "to draw comfort from nature and the universality of death. Sensitive and thoughtful, "Radical Acts of Love" demonstrates how love can help people find a sense of peace and acceptance in many of life's most challenging times.
The Rabbit Effect: Live Longer, Happier, and Healthier with the Groundbreaking Science of Kindness by Dr. Kelli Harding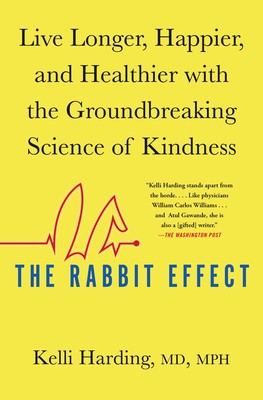 Dr. Kelli Harding is an assistant clinical professor of psychiatry at Columbia University Irving Medical Center with a keen curiosity. During medical school, she was perplexed by patients with identical diagnoses who had very different trajectories. While unpacking the roots of this puzzle, she read an old study on the effects of a high-fat diet on rabbits, which had a surprise twist: Some rabbits had 60 percent fewer fatty deposits in their arteries. Why? It turned out that those rabbits were cared for by a particularly compassionate and nurturing researcher. That study inspired the book's title and sent Dr. Harding on a journey to learn more about the powerful effect of kindness on health. After probing the "hidden factors" of health, such as intimate relationships, social ties, work, education, and neighborhood, she finishes each chapter with a list of practical tips to "expand your tool kit." By weaving scientific facts together with personal and professional stories, Dr. Harding sheds light on the remarkable power of love and compassion and the tangible impact of kindness on our health and longevity.
The Beauty in Breaking: A Memoir by Dr. Michele Harper
Dr. Michele Harper is an emergency room physician who has practiced in the South Bronx and Philadelphia, a graduate of Harvard and the Renaissance School of Medicine at Stony Brook University, and one of only about 2% of U.S. physicians who are African-American women. In her first book, a New York Times bestseller, she shares hospitals' excitement, unpredictability, and entrenched culture, including blatant acts of racism. Growing up with an abusive father, she developed a sophisticated intuition of when people might be facing harm or trouble, intuition that helps her notice certain patients and provide crucial care they would have otherwise gone without. She writes of the emergency room, "Unlike in the war zone that was my childhood, I would be in control of that space, providing relief or at least a reprieve to those who called out for help. I would see to it that there was shelter in the spaces of which I was the guardian." A humanist (and a recipient of the Arnold P. Gold Foundation Humanism Award), Dr. Harper takes us through her career, interlacing personal experiences with poignant stories about her patients, as she grows to better understand herself. In doing so, she offers  a much needed, brutally honest view of modern medicine, structural inequities, and humanity.
How to Be an Antiracist by Dr. Ibram X. Kendi
Dr. Kendi, the Andrew W. Mellon Professor in the Humanities and the Founding Director of the Boston University Center for Antiracist Research and winner of the National Book Award, weaves his personal journey with powerful statistics, studies, and theory in this New York Times best-selling book. "The opposite of 'racist' isn't 'not racist.' It is 'anti-racist," he writes. "One either believes problems are rooted in groups of people, as a racist, or confronts racial inequities, as an antiracist." The fight against racism is growing stronger this year in healthcare, both in education and practice, and this book provides a frame and analysis that can be useful to any realm or person. In the final chapter, Dr. Kendi briefly chronicles the heart-wrenching diagnosis of breast cancer that his wife, Sadiqa, who is a physician, faced, followed years later by his own diagnosis of stage IV colon cancer. He was undergoing chemotherapy while writing this book, and he ruminates on the similarities of racism and cancer. "Pain is usually essential to healing," he considers. "When it comes to healing America of racism, we want to heal America without pain, but without pain, there is no progress." How to Be an Antiracist is an important addition to any clinician's or person's education on humanism.
The Soul of Care: The Moral Education of a Husband and a Doctor by Dr. Arthur Kleinman
From Dr. Arthur Kleinman, professor of psychiatry and medical anthropology at Harvard Medical School, comes a touching memoir about relationships, compassion, and medical education. Reflecting upon 10 years of caring for his wife Joan, who was diagnosed with Alzheimer's disease, he meditates on the privilege and vulnerability that come with such responsibility. Dr. Rita Charon, founder of the Program in Narrative Medicine at Columbia, writes, "At once a manifesto for decent health care and a brave exposing of an inner life, The Soul of Care gives language for what we all crave—effective, generous health care that nourishes those who give and those who receive until they recognize their oneness."
Raising a Rare Girl: A Memoir by Heather Lanier
When Heather Lanier, an essayist and poet, found out she was pregnant, she did everything she could to make a "SuperBaby." She ate only the healthiest food, "avoided finding out my SuperBaby's sex so I wouldn't project gender roles onto her/him/them", and "swallowed capsules of mercury-free DHA to help grow my SuperBaby's brain." But Fiona is born with Wolf-Hirschhorn syndrome, a rare chromosomal condition that results in severely delayed growth and developmental difficulties. Even while addressing the particular challenges of their day-to-day life, Ms. Lanier showcases the beauty in everyday moments and the power of compassion in raising a child. Her frankness and unwavering love combine for a captivating read. According to a New York Times review, "In this story of her rare girl, [Ms.] Lanier shines a clear light on what we sign up for when we allow a human soul to come through us and into the world, in whatever 'interesting and beautiful package' that soul might find."
Together: The Healing Power of Human Connection in a Sometimes Lonely World by Dr. Vivek Murthy
In his debut book, a New York Times best-seller, Dr. Vivek Murthy draws readers' attention to a serious and often overlooked health issue: loneliness. The 19th Surgeon General of the United States and the 2020 recipient of the 2020 Vilcek-Gold Award for Humanism in Healthcare (as well as a Gold Humanism Honor Society member and a 2016 National Humanism in Medicine Medal recipient), Dr. Murthy has held a humanistic perspective on healthcare his entire career. In Together, Dr. Murthy stitches collected stories from his childhood, his patients, and his adult life, along with powerful statistics and incisive studies, to underscore how critical human connection is to our well-being. His own personal stories, of feeling disconnected as an adult, of his loneliness as a child, illustrate his thoughtfulness and choice to be vulnerable and connect with the reader. He reassures readers that they are not alone – loneliness is very common; we simply don't talk about it. This book provides an opportunity to open this conversation and begin to reexamine and strengthen our own connections for the better. Note: The audiobook features Dr. Murthy himself reading, in his gentle, compassionate voice, and is a particularly worthwhile listen.
When We Do Harm: A Doctor Confronts Medical Errors by Dr. Danielle Ofri
Mistakes in medical care are more common than we would like to think. Physician-author, Bellevue Literary Review co-founder, and recipient of the Gold Foundation's National Humanism in Medicine Medal, Dr. Ofri explores medical errors and patient safety in our healthcare system in her latest book. She intertwines compelling patient narratives with her thoughts on how to mitigate these errors. Her lively storytelling is crisp and engaging and backed by stats and studies. The Kirkus Review writes of When We Do Harm, "What makes this book special is [Dr.] Ofri's perspective and compassionate nature; she sees her own patients as real people and is candid with readers about her concerns and vulnerabilities. . . . Thorough analysis of a challenging problem executed with a personal touch that makes it highly readable."
The First Cell: And the Human Costs of Pursuing Cancer to the Last by Dr. Azra Raza
While many healthcare-oriented books with a wide potential readership dovetail patient stories with science, Dr. Raza takes it to a level higher, presenting moving detailed accounts of eight cancer patients and complex scientific research. One of the patients is her own husband, Dr. Harvey Preisler, a fellow oncologist, and every single patient is described exquisite fully human terms. Dr. Raza's work focuses on myelodysplastic syndromes (MDS), a prelukemic condition in the bone marrow that, in one third of patients, turns into acute myeloid leukemia (AML). Through all her research and her intimate and devastating patient stories, she has come to a thesis that drives the entire book: "The only way to deal with the cancer problem in the fastest, cheapest, and, above all, most universally applicable and compassionate way is to shift our focus away from exclusively developing treatments for end-stage disease and concentrate on diagnosing cancer at its inception and developing the science to prevent its further expansion. From chasing after the last cell to identifying the footprints of the first." Compelling and enlightening, this book won't be easily forgotten.
When Blood Breaks Down: Life Lessons from Leukemia by Dr. Mikkael A. Sekeres
As Director of the Leukemia Program at the Cleveland Clinic, Dr. Sekeres has seen this devastating disease in so many forms. In his first book, he tells the stories of three patients – composite sketches of his many patients – who arrive at the hospital within a day of each other, and face the diagnosis of blood cancer and the subsequent myriad agonizing treatment decisions: Joan, 48, a surgical nurse; David, 68; and Sarah, 36, who is also pregnant. Dr. Sekeres walks readers step by step through their realizations, their bloodwork, their symptoms, their treatment options, and the many twists in their progress. Family members are vivid characters, too, adding levity and complexity with their own hopes and wishes, and hospital colleagues provide help and guidance. Along the way, Dr. Sekeres explains medical terms and processes, from the various types of leukemia to reading a stained bone marrow slide to bone marrow transplantation. For all its educational benefits, at the core, this book details the emotional journey of a life-changing diagnosis and its lessons.
Man's 4th Best Hospital by Samuel Shem
The newest novel by Samuel Shem follows more than 40 years after the publication of its predecessor, The House of God, a cynical satire about medical residency that became an influential read for medical trainees. The hospital dubbed "Man's Best Hospital" in the first book has fallen to "Man's 4th Best Hospital," with all the modern trappings and financial and time pressures of healthcare today. Samuel Shem is the pen name of Dr. Stephen Bergman, a professor in medical humanities at NYU who was propelled to write this sequel after returning to teach 5 years ago and seeing again the inner workings of modern healthcare: "It blew me away: the grandeur of medicine now and the horrific things that are happening to people who are really, sincerely, with love, trying to practice it," he told Dr. Mara Gordan for NPR. "They are crunched, by being at the mercy of the financially focused system and technology." This sequel brings back the characters from the original novel and looks squarely at the new problems in healthcare 40 years later. 
Fragile: Beauty in Chaos, Grace in Tragedy, and Hope that Lives In Between by Dr. Shannon Sovndal
Dr. Shannon Sovndal is a medical director for multiple air and ground EMS agencies, producer of Match on a Fire: Medicine and More podcast and the founder of 3Hundred Training Group. Based in Colorado, he has also been a team physician for the Garmin Professional Cycling Team. In this candid and down-to-earth memoir, he takes us on the adventures of his career and his musings along the way – from his days as a cadet at the Air Force Academy to life as medical student at Columbia (where he was awarded the Arnold P. Gold Humanism in Medicine Award) to the intensity of the ER and the agony of loss. He shares how clinicians are expected to pack away their feelings and get to work caring for other patients, even after a patient's death. He reflects on the Gold Foundation's mission and the challenge of modern medicine to fulfill the essential clinician-patient connection and deep compassion that is possible in optimal care. Life is fragile, he realizes, and we can't avoid this – by recognizing this truth, we can face our days with deeper gratitude and acceptance.