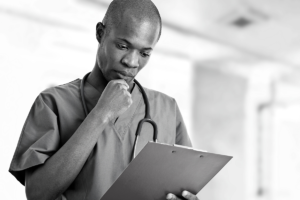 The Jeffrey Silver Humanism in Healthcare Research Roundup features summaries of recently published studies on humanism in healthcare. To receive email notification of new studies once per month, enter your information here and select "Jeffrey Silver Research Roundup" from the checkboxes at the bottom. See previous posts in this series.
Enhancing patient-centered care for limited English proficiency patients through Tell Me More®: A student-driven initiative to explore the patient as a person and develop students' communication skills. Liu A, Leong AW, Fornari A, Ahuja TK. Patient Experience Journal. 2022; 9(3):180-190. doi: 10.35680/2372-0247.1675. Free full text Dr. Alice Fornari has been a Gold grantee, and both Dr. Fornari and Dr. Taranjeet Kalra Ahuja have presented and trained on the Tell Me More® program to numerous audiences. Dr. Ahuja is also a co-Advisor to the Zucker School of Medicine GHHS Chapter.  Tell Me More® is a Gold Foundation program.
Over 25 million people in the United States have limited English proficiency (LEP), which has important ramifications for accessing medical services, obtaining health insurance, and receiving high-quality care. The Tell Me More® (TMM) communications tool, which prompts patients to share personal information about their strengths, values, aspirations, hobbies, and personality on a poster visible to the healthcare team, may be one way to help address this issue. At Long Island Jewish Medical Center in Queens, New York, Angelia Liu and colleagues conducted an exploratory pilot study to evaluate the feasibility of this approach, compare TMM engagement between LEP and English-speaking patients, and document the impact of this initiative on medical students, who helped patients fill out the TMM poster. 12 LEP and 49 ES patients participated. The TMM approach was deemed a feasible option to enhance patient-centered care for LEP patients. LEP patients had higher levels of participation compared to ES patients. Furthermore, qualitative analysis suggested that TMM helps to promote understanding of LEP patient experience for medical students Although this is a small study, the results are encouraging and support TMM as a feasible and promising approach to promote humanistic healthcare among LEP patients.
Racial and Ethnic Differences in Communication Quality During Family-Centered Rounds. Parente VM, Reid HW, Robles J, Johnson KS, Svetkey LP, Sanders LL, Olsen MK, Pollak KI. Pediatrics. 2022 Nov 8:e2021055227. doi: 10.1542/peds.2021-055227. Epub ahead of print. PMID: 36345704.
Family-centered rounds is "a bedside rounding practice in which the entire hospital care team discusses the child's medical condition and plan with the caregiver."  Although family-oriented rounds may help to promote patient activation and engagement, clinician-caregiver alignment, identification of information missing from the medical chart, and prevention of medical errors, data show that Black and Spanish-speaking caregivers are less comfortable asking questions. To explore this and other differences in communication quality, Dr. Victoria M. Parente and colleagues conducted an observation study of family-centered rounds on the first day of hospitalization. 202 caregivers completed a survey and 59 also consented to audio-recorded rounds. Transcriptions of audio-recorded rounds revealed that English-speaking and Spanish-speaking Latinx caregivers participated less than white caregivers. Coders rated respect and partnership as lower during family-centered rounds with Black and Spanish-speaking caregivers than with white caregivers. On surveys, Spanish-speaking caregivers also reported lower communication quality compared to their English-speaking counterparts. The authors acknowledged limitations, including a lack of data on socioeconomic status, racial concordance of clinicians and caregivers, and preference for one language over another. Regardless, the results of this study show racial and ethnic differences in the quality of communication and spotlight opportunities for innovations to help ensure more "inclusive and equitable communication outcomes for all families."
Formative Evaluation and Adaptation of a Navajo Cancer Survivor Physical Activity Intervention to Serve a Broader Native American Cancer Survivor Community. Bea JW, Charley B, Lane T, Kinslow B, de Heer H', Yazzie E, Yellowhair J, Hudson J, Wertheim BC, Schwartz AL. Health Promot Pract. 2022 Nov 26:15248399221131318. doi: 10.1177/15248399221131318. Epub ahead of print. PMID: 36433816. Dr. Alan Schwartz has been a Gold Foundation grantee.
Exercise is an important modality to improve cancer survivorship and experts recommend exercise prior to, during, and after cancer treatment. Yet trials of cancer exercise among Native American communities are lacking. Dr. Jennifer W. Bea and colleagues designed a culturally tailored exercise intervention, named Restoring Balance, based on focus groups and interviews with Navajo cancer survivors. Investigators identified 8 cultural experts from 10 tribal communities to review the program for content validity, feasibility, and acceptability for different communities. Primer surveys to rate graphics, phrasing, activities, design, color, and length were distributed, and focus groups were conducted to assess the program and measurement protocols for clarity, cultural appropriateness, and adaptation to expand tribal inclusiveness. Eight cross-cutting themes were identified: (1) importance of hope, (2) framing as nurturing instead of analytical, (3) cultural significance of colors, (4) alignment of visual aspects of logo with cultural norms and values, (5) physical activity as inherently cultural and traditional in exercise brochures, (6) screening location at clinics or health events instead of public places or unrelated events, (7) water as medicine, and (8) motivational messaging or testimonials aligned with cultural symbolism This disciplined approach to developing a culturally sensitive and patient-centered adaptation provides an example for how to engage with diverse communities.

Which patient experiences are you capturing? Investigating differences in patient experience drivers by race/ethnicity and survey mode Eilert M, Land T, Shafer J. Patient Experience Journal. 2022; 9(3):28-38. Doi: 10.35680/2372-0247.1636. Free full text Dr. Meike Eilert is a researcher and Toni Land is head of Clinical Healthcare Experience at Medallia, a Gold Corporate Council member.
Patient experience (PX) is an important contributor to the quality of healthcare, and the ability to capture patient experiences is essential to learning how healthcare can become more humanistic and patient-centered. However, little is known about how what factors impact PX among underserved populations and whether those factors may differ by demographics, critical information to help address disparities in healthcare. To investigate this, Dr. Meike Eilert and colleagues used data from the 2018 and 2019 CAHPS Adult PCMH/Adult Primary Care 6 Month Combined dataset from 166,349 respondents. PX drivers were compared, including effective communication, helpful and courteous staff, timely appointments, and providers' use of information. The researchers found that PX drivers varied across underserved populations. For example, for Asian American patients, helpful and courteous staff was a bigger factor in PX than effective communication and timely appointments. This contrasts with Black or African-American patients who generally placed greater importance on timely appointments. Moreover, the modality of surveying makes a difference. The authors noted that Hispanic patients "disproportionately respond to phone surveys but are only half as likely to respond as the average patient to [Interactive Voice Response]."  Altogether, these results imply an important need to use a variety of survey modes to capture patient feedback to understand the different drivers of PX. That way, the authors conclude, we can "listen equitably" to understand the patient experience.
The role of arts-based curricula in professional identity formation: results of a qualitative analysis of learner's written reflections Aluri J, Ker J, Marr B, Kagan H, Stouffer K, Yenawine P, Kelly-Hedrick M, Chisolm MS. Med Educ Online. 2023 Dec;28(1):2145105. doi: 10.1080/10872981.2022.2145105. PMID: 36373894; PMCID: PMC9668275 Free full text Dr. Margaret Chisolm has been a Gold Foundation grantee, a Gold Humanism Scholar at the Harvard Macy Institute, and a Gold Foundation faculty mentor for the Gold Humanism Scholars program as at HMI.
Professional identity formation is a complex process by which medical students learn to think, feel, and act like physicians. Arts and humanities programs can help to foster this professional identity formation by enhancing empathy, tolerance for ambiguity, communication, teamwork, and joy. To explore the relationship between a 5-day online course featuring visual arts-based group activities and themes of professional identity formation, James Aluri and colleagues conducted a qualitative study of 18 students. Thematic analysis of written reflections revealed 5 themes: (1) the nature of the good life, (2) fulfilling, purposeful work, (3) entering the physician role, (4) exploration of emotional experience, and (5) personal growth. The authors concluded that these arts-based courses can enrich learners' reflections and provide a space for learners to be vulnerable.
A Randomized Clinical Trial to Evaluate an Atrial Fibrillation Stroke Prevention Shared Decision-Making Pathway Wang PJ, Lu Y, Mahaffey KW, Lin A, Morin DP, Sears SF, Chung MK, Russo AM, Lin B, Piccini J, Hills MT, Berube C, Pundi K, Baykaner T, Garay G, Lhamo K, Rice E, Pourshams IA, Shah R, Newswanger P, DeSutter K, Nunes JC, Albert MA, Schulman KA, Heidenreich PA, Bunch TJ, Sanders LM, Turakhia M, Verghese A, Stafford RS. J Am Heart Assoc. 2022 Nov 7:e8009. doi: 10.1161/JAHA.122.028562. Epub ahead of print. PMID: 36342828 Free full text Dr. Abraham Verghese is a former Gold Foundation Trustee and gave both the 2012 and 2005 Jordan J. Cohen Humanism in Medicine Lecture at the AAMC.
Shared decision-making (SDM) has been shown to improve outcomes, but several barriers can prevent implementation of successful decision-making. To facilitate SDM in treating atrial fibrillation with oral anticoagulation, Dr. Paul J. Wang and colleagues created a digital SDM toolkit and conducted a randomized controlled trial to evaluate it compared to usual care. The toolkit, available in both Spanish and English, included five aspects: (1) a brief, animated video, (2) interactive questions with answers, (3) a quiz to check understanding, (4) a worksheet to be used by the patient during the encounter, and (5) an online guide for clinicians. 1,001 participants at 5 sites in the United States were assigned to either the SDM group or the usual care group. Investigators then measured the Decision Conflict Scale and Decision Regret Scale at 1 month and 6 months. They found that patients in the SDM group were less likely to have conflict and regret at 1 month. However, such an effect lessened in 6 months. The authors acknowledged that long-term outcomes are not available and that healthcare outcomes were not measured. Still, the results provide some evidence that digital tools may be useful in promoting SDM and patient-centered care.
A Qualitative Study of Preclinical Medical Students Randomized to Patient-Partnered vs Traditional Clinical Experiences Tang JW, Kostas T, Verma A, Press VG, Kushner J, Gier N, Wiklund LO, Arora VM, Farnan J, Meltzer DO. J Patient Cent Res Rev. 2022 Oct 18;9(4):290-297. doi: 10.17294/2330-0698.1930. PMID: 36340569; PMCID: PMC9584085 Free full text Dr. Valerie Press and Dr. Vineet M. Arora have been Gold Foundation grantees.
Longitudinal patient-partnered experiences during the preclinical years of medical school are becoming more common. In these experiences, medical students are partnered with patients to gain an understanding of the experiences, perspectives and needs of patients. Joyce W. Tang and colleagues explored and compared areas of student learning after placing them in either a 9-month longitudinal partnership with two patient partners and a physician preceptor or 9-month longitudinal partnership with only a physician preceptor. At the end of the course, the 90 students (56 in the traditional track and 24 in the patient-centered track) wrote 250-word essays Template analysis yielded three thematic domains: (1) focus of learning, (2) roles and relationships, and (3) context of care. Overall, the authors noted that longitudinal patient-partnered clinical experiences "can provide rich opportunities for preclinical students to cultivate empathy and develop patient-centered values."
"All of the things to everyone everywhere": A mixed methods analysis of community perspectives on equitable access to monoclonal antibody treatment for COVID-19 Kwan BM, Sobczak C, Gorman C, Roberts S, Owen V, Wynia MK, Ginde AA, Pena-Jackson G, Ziegler O, Ross DeCamp L. PLoS One. 2022 Nov 23;17(11):e0274043. doi: 10.1371/journal.pone.0274043. PMID: 36417457. Free full text Dr. Matthew K. Wynia has been a Gold Foundation grantee
Neutralizing monoclonal antibody (mAb) treatment for COVID-19 is a potentially life-saving therapy that can help prevent hospitalization. However, access to mAB therapy is not uniform, with notable known racial and ethnic inequities. To explore these inequities, Dr. Bethany M. Kwan and colleagues conducted a mixed-methods study that included surveys from 515 individuals and 8 focus groups of 69 participants total. According to surveys, 75% had heard "little or nothing" about mAbs; 95% said they would consider mAb treatment after its risk and benefits were disclosed. Thematic analysis of transcripts from the focus groups corroborated high interest but little awareness in mAb treatment. Other themes included concerns about cost, barriers to access, and preferences for broad-reaching but tailored message strategies. Altogether, this suggests that, in order to promote the use of mAbs, messaging should have "broad reach to everyone everywhere." Additionally, barriers like transportation, insurance, and primary care access will need to be addressed to promote health equity in the treatment of COVID-19 with mAbs.
Sources of Clinician Burnout in Providing Care for Underserved Patients in a Safety-Net Healthcare System Welles CC, Tong A, Brereton E, Steiner JF, Wynia MK, Powe NR, Chonchol M, Hasnain-Wynia R, Cervantes L. J Gen Intern Med. 2022 Nov 14. Doi: 10.1007/s11606-022-07896-5. Epub ahead of print. PMID: 36376633. Dr. Matthew K. Wynia has been a Gold Foundation grantee
Burnout is a common occupational syndrome among healthcare team members and has adverse effects on both clinician well-being and patient healthcare outcomes. Healthcare team members from safety-net healthcare systems (SNHS) may be particularly susceptible, because of the unique and challenging experiences associated with providing high-quality care with limited resources to those who experience health disparities. To examine this further, Dr. Christine C. Welles and colleagues conducted semi-structured interviews with 40 clinicians. Thematic analysis of interview transcripts yielded five themes: (1) limited resources, (2) barriers to building trust with patients, (3) administrative requirements, (4) compassion fatigue, and (5) advocacy as a counterbalance to burnout. The insights from these interviews suggest that burnout is affected by several factors associated with socioeconomic determinants of health. The authors concluded that policy-level interventions to increase funding to SNHS, creation of peer-support and wellness programs, and support for advocacy efforts may help mitigate burnout.
To receive an email update when next month's Research Roundup is published, please sign up here and check the box for Research Roundup.